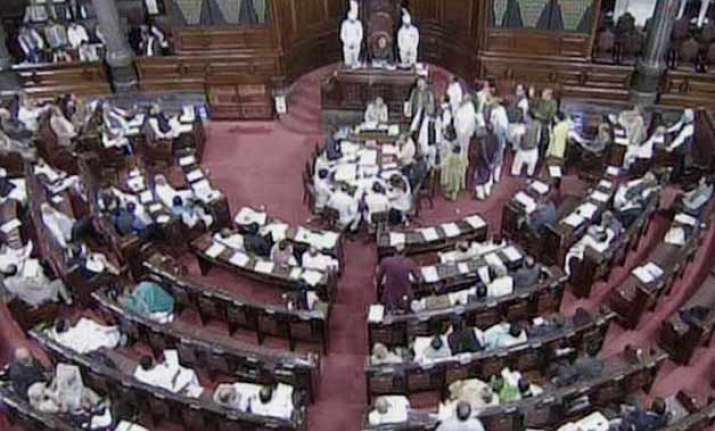 1. Rajya Sabha to take up Companies bill
New Delhi:
Companies (Amendment) Bill, 2014 will be presented in Rajya Sabha today. Government's attempt to pass it became scuttled by opposition members from various parties pressed for putting it off for Wednesday.
2. Satyam case: Raju, others to be released
Hyderabad: Satyam Computers founder B Ramalinga Raju and nine others are expected to be released from the Cherlapally Central Prison today.
3. Amit shah to meet all Bihar BJP MPs
Delhi: BJP President Amit Shah has called a meeting of all Bihar BJP MPs today at 7pm at BJP Headquarters in New Delhi.  
4. JKPYC to launch 2-day protest march
Jammu: Jammu and Kashmir Pradesh Youth Congress will launch a two-day 'Yuva Sankalap Yatra' beginning today from here to Srinagar to protest against the state government's alleged failure in addressing the youth-related issues.
5. Delhi government's ACB to question RIL CEO
New Delhi: The CEO of Reliance Industries Limited (RIL) will be questioned by the Anti-Corruption Bureau of Delhi government today in the Krishna-Godavari Basin case, which was termed as the "gas pricing scam" by Delhi chief minister Arvind Kejriwal.
6. Schools in Lucknow to remain shut after Earthquake
Lucknow: schools upto 12th tomorrow will remain close by order of DM, Lucknow Due to Unexpected Earthquake Tremors
7. Radha Mohan Singh to launch website of Multi-State Cooperative Societies
New Delhi: The Union Minister for Agriculture, Shri Radha Mohan Singh will  today launch a website of Multi-State Cooperative Societies.
8. Piyush Goyal to inaugurate the National Seminar
New Delhi: Sh. Piyush Goyal, Minister of State (IC) for Power, Coal & New and Renewable Energy will today inaugurate the National Seminar on Challenges in Enhancing Coal Production through State of Art Technology, Higher Productivity and Innovation being organized by World Confederation of Productivity Science (India).
9. Madhya Pradesh government to change entire structure of Vyapam
Bhopal: Madhya Pradesh government will today start the documentation process to change the entire structure of Vyapam after scam. Shivraj Cabinet has given green signal for the change of its name and structure.