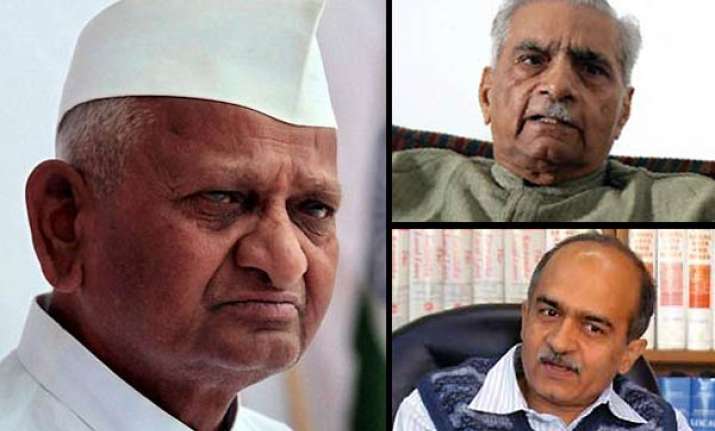 Ralegan Siddhi, Apr 22: Gandhian Anna Hazare has said that it wasn't he  who got Shanti Bhushan and his son Prashant Bhushan on the joint drafting committee for Lok Pal Bill.

"I don't know the Bhushans well at all. I met them only in Delhi. I did not get them onto the Lokpal committee on my own, their names were suggested by other members and I agreed. I do not want to say anything more on them or the issue of their land (farmhouse plots allotted in Noida) because I don't know anything about it," he told The Indian Express.

While the Bhushans' colleagues on the committee, Arvind Kejriwal and Santosh Hegde, have come out in support, Hazare has maintained a silence on the subject. "Why is everyone asking me about them? Ask them (the Bhushans), they are the best people to talk on the issue," he said.

Told that as per the government notification, the Bhushans were his nominees, he said: "I do not know them for long or from earlier days. I was not the one to put their names on the committee."

Anil Sharma, assistant to Hazare who was with him throughout his fast at Jantar Mantar and who handles most of his assignments and appointments at Ralegan Siddhi, added: "Basically we do not know about people outside Maharashtra.

"Anna met the Bhushans in Delhi and people there like Kiran Bedi and Arvind Kejriwal, who are close to Anna and the movement, recommended their names.

"Also, the Bhushans had been involved in making the earlier draft of the Jan Lokpal Bill so it was thought that it's better they be there rather than anyone new since they have so much knowledge of the issue.

"The only thing we heard was that some people objected to the father-son duo being there and we clarified that point later on," said Sharma.

Hazare said that despite the controversies swirling around the committee, it would work on the Bill as planned and there would be no disruptions.

"The Lokpal committee will continue as it is. We are committed to doing our work. The letter I received from Sonia Gandhi is a very positive one where she has supported our drafting of the Bill. I am very happy with her reply and when Sonia Gandhi is with us on this, what impediment can there be?"

He said he is preparing for the next meeting on May 2 in New Delhi after which he will set out on a nationwide tour.