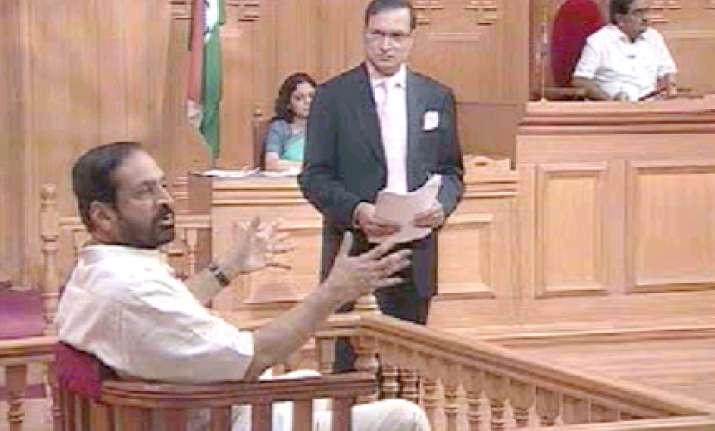 The man at the centre of Commonwealth Games controversy, Suresh Kalmadi told Rajat Sharma's Aap Ki Adalat on Saturday that he was ready to face a judicial probe into wrongdoings during the Games preparations.
"I am ready for CAG or even a judicial inquiry, that can also start right now. But let me tell you, the Organising Committee's work is limited only to Rs 1600 crore allocated to it for organizing the Games, the job of setting up infrastructure belongs to other agencies", said Kalmadi.
Kalmadi brushed aside charges of purchase of treadmills, air-conditioners, refrigerators and toilet rolls at exorbitant rates, saying that the articles were purchased only after floating global tenders. "The treadmills are not the normal treadmills, they are specially meant for athletes. We have bought high quality stuff", he said.
However, Kalmadi said: "We will not allow any corruption. Anybody indulging in corruption will face the music". He said three officials of the Organizing Committee have been suspended pending inquiry which is in progress.
The chairman of the Organizing Committee said Delhi Commonwealth Games will be a success and "we will make India proud".
"After sixty years of Independence we got the chance for the first time to host the Commonwealth Games, which were hitherto being hosted only by three countries -  England, Australia and Canada. India was the first Third World country which was given the chance. The Commonwealth Games Federation is fully satisfied with the preparations for the Games. It's only people in India who need to be convinced", he said.   
Kalmadi claimed that the infrastructure that has been provided for Delhi Games was world class, "even better than the Beijing Olympics". However, he added, loose ends would be tied up in the 45 days that are left.
"Our stadiums are world class, better than those of Beijing Olympics, our Games Village is one of the best in the world. Delhi Airport has a swanky new terminal and Delhi Metro is in place. People of Delhi are very lucky to have got such world-class infrastructure", said Kalmadi.
"For 28 years since the 1982 Asian Games, India did not host any big international sports event of this nature. We are going to showcase our 5,000-year-old heritage at the Opening Ceremony and A R Rahman is composing the theme song. Indian athletes will interact with the world's best athletes. I am confident all the foreign athletes who will come to the Delhi Games will return home happy", said Kalmadi.
On India's expectations at the Delhi Games, Kalmadi said, " India had won 50 medals and was in the fourth place in the Melbourne Games. This time, we hope to collect nearly 70 medals and come to the third spot, if not second. I have no doubt we will have a good medals tally. The Prime Minister himself has approved Rs 700 crore for the training of our players".
Do not miss Suresh Kalmadi in Rajat Sharma's Aap Ki Adalat on India TV on Saturday (August 7) at 10 pm and on Sunday (August 8) at 10 am and 10 pm.