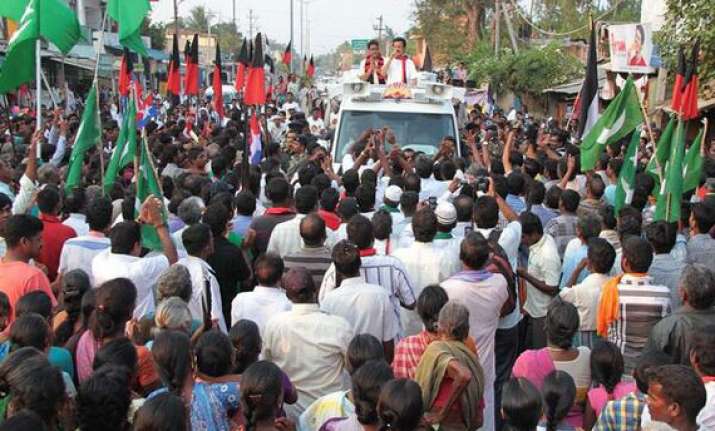 Puducherry: With just over a week to go for the polls, the Union Territory is witnessing hectic campaigning by candidates who are straining every sinew to secure the lone Lok Sabha seat.
As many as 30 contestants are in the fray for the April 24 elections with the major fight being between sitting MP and senior Congress leader V.Narayanasamy and nominee of ruling AINRC R.Radhakrishnan.
This is the first parliamentary polls the AINRC is facing after it was formed in 2011.
Narayanasamy, a Minister of State in PMO who successfully fought the 2009 polls from here, has been criss-crossing various segments, flaying Chief Minister N.Rangasamy for 'having failed to approach the Centre with firm policies and programmes to seek funds for development of Puducherry all these three years.'
Narayanasamy also dismisses vehemently the allegation the AINRC is making against him that he has been standing in the way of the availability of Central funds for Puducherry out of 'political vendetta'.
He also points out that the Chief Minister had not been attending crucial meetings of the Central government to get approval for various developmental projects here.
Union Finance Minister P Chidambaram at an election meeting yesterday hit out at Rangasamy and rejected as 'wrong' his allegation that the Centre had denied sufficient funds for the Union Territory.
Criticising Rangasamy for forging an alliance with the BJP for the polls, he said secularism would face a big threat if BJP came to power.
On his part, Rangasamy has been pointing out during his campaign that the fiscal crisis his government was facing was largely due to the non-cooperation of the Congress-led UPA government.