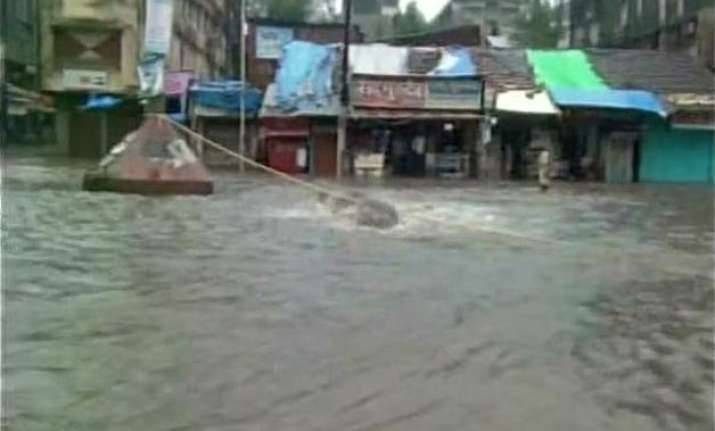 Mumbai: Normal life was disrupted in Mumbai today once again after the city witnessed heavy downpour.
The train, air and road services are badly affected with reports of water logging coming from several low-lying areas like Hindmata, King Circle, Wadala, Sion, Matunga,
Mahim, Kurla, Thane and Dharavi due to continuous heavy rains
Trains are running 30 minutes behind scheduled time on Central railway and 15-20 minutes on Western section.
At least four Mumbai-bound flights were forced to abort landing at the last minute as the airstrip visibility fell amid heavy showers that lashed the city today morning.
According to PTI, some express trains of Western Railway were cancelled today due to waterlogging.
Also, local train services of Central Railway were suspended for a short while between Kurla and Chhatrapati Shivaji Terminus (CST) after tracks got submerged between Sion and Kurla.
The cancelled trains are Ahmedabad Express, Bandra-Surat Inter-city Express, Mumbai Central-Ahmedabad Shatabdi Express, Mumbai Central-Porbundar Express and Bandra Terminus-Vapi passenger train.
According to the Brihanmumbai Municipal Corporation's (BMC's) disaster management cell, waterlogging was reported at 32 locations in the city till 10.30am. Vehicular traffic movement have been diverted from seven locations and a total of 111 dewatering pumps have been put into use at various waterlogged spots.