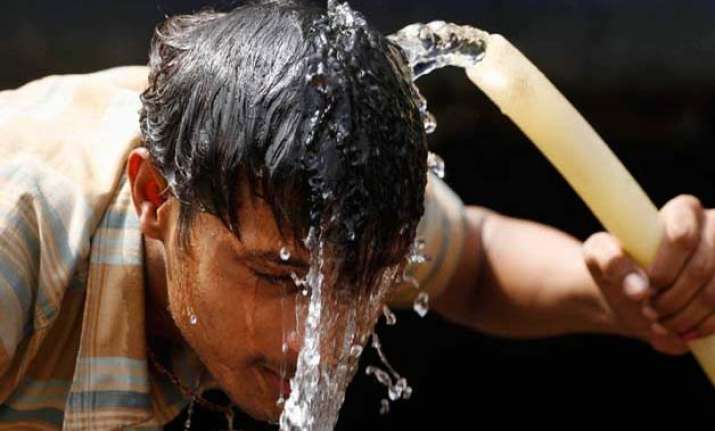 New Delhi:  Sweltering heat wave conditions continued in various parts of the country, causing death of over 550 people, mostly in Andhra Pradesh and Telangana, so far in the season.
National capital Delhi saw the hottest day, recording 45.5 degree celsius.
Temperature in several other places hovered around the same mark while industrial town of Angul in Odisha recorded a maximum temperature of 47.
The Palam observatory in Delhi recorded a maximum temperature of 46.4 degrees.
There may be some respite from the sweltering heat tomorrow with the weatherman predicting dust storm and thunder storm.
In Telangana, the heat wave has claimed 215 lives since May 15, said Special Commissioner for Disaster Management, Sada Bhargavi.
In Andhra Pradesh, the number stood at 302 till this evening, said Tulsi Rani, Special Commissioner for Disaster Management, adding that data from different districts was still being compiled.
Temperatures have been hovering around 45 degree Celsius in both the states for the last few days.
A bulletin from the Met department said Ramagundam, Nalgonda and Khammam recorded 45 degree celsius.
Andhra Pradesh Chief Minister N Chandrababu Naidu has directed the state administration to open camps for providing drinking water and butter milk as a measure of protection against the severe heat conditions.
He also appealed to the general public to avoid sun from 11 AM to 4.30 PM, if possible.
Meanwhile, a weather department official said in Visakhapatnam that the heatwave conditions will prevail for another day and thundershowers are likely to occur in the north-coastal Andhra Pradesh by tonight or tomorrow. In Odisha, the heat wave has reportedly claimed lives of 43 people so far.
The government, however, has confirmed only four deaths due to sunstroke.
The Special Relief Commissioner (SRC) has received reports of 43 deaths allegedly due to sun stroke, Deputy SRC Pravat Ranjan Mohapatra said.
"Of the 43 alleged cases of sun stroke, four have been confirmed by the district collectors," he said, adding the district collectors were probing 32 other cases.
Of the four confirmed cases of sunstoke, two came from Rayagada district while one each occured in Balasore and Baragarh, he said.
The heat wave condition further intensified across the state today with the industrial town of Angul recording a maximum temperature of 47 degree celsius.
At least six major towns registered temperatures above 46 degrees and in 18 towns mercury crossed the 40 degree mark.
The state capital of Bhubaneswar recorded a high of 45.4 degrees today against yesterday's 45 degrees.
IMD Director, Bhubaneswar, S C Sahu, said there is no indication of reduction in the day temperature across the state in next five days. "The heat wave like condition will continue at least till May 31," Sahu said.
The soaring temperatures have been accompanied by frequent power cuts in different parts of the state, including Bhubaneswar, which have made life difficult for the people.