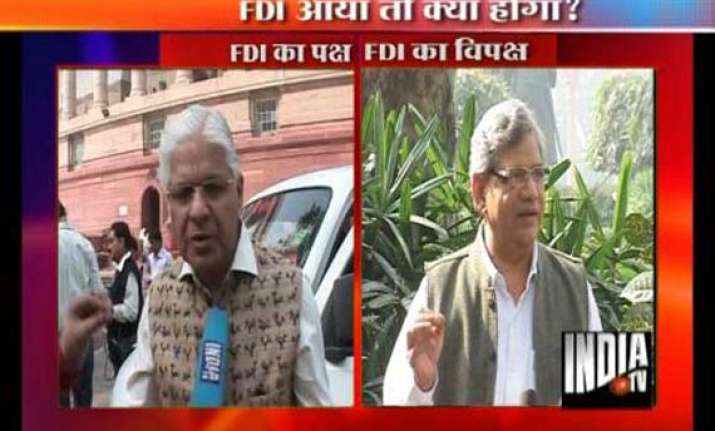 New Delhi, Nov 29 : Deadlock in Parliament over FDI in retail issue continued today with government telling an unrelenting opposition it would discuss the demand for a rollback with the Prime Minister and the Cabinet. 

The hour-long meeting held in Parliament House failed to resolve the logjam in the two Houses as opposition parties, led by BJP and the Left, stuck to their stand and demanded rollback of the Cabinet decision to allow 51 per cent FDI in multi-brand retail.

Even UPA allies TMC and DMK, along with SP and BSP, which lend outside support to government, demanded that the decision should be revoked.

Leader of the House in Lok Sabha and Finance Minister Pranab Mukherjee told the meeting that government had heard the views of the opposition parties but since the FDI decision was taken by the Cabinet, he would take the views of the opposition to the Prime Minister and the Cabinet.

"The opposition parties agreed with this suggestion," CPI(M) leader Sitaram Yechury said after the meeting.  Interestingly, UPA allies were as vocal in their dissent as the opposition parties. DMK told government to "shelve" the decision while TMC demanded a rollback. 

"We have demanded rollback of the decision.  We have been demanding that a meeting of UPA partners should be held every three months. Such matters should be discussed with UPA partners," TMC leader Sudip Bandhopadhyaya said. 

SP spokesperson Mohan Singh insisted that "without government withdrawing the FDI decision, Parliament cannot function smoothly".