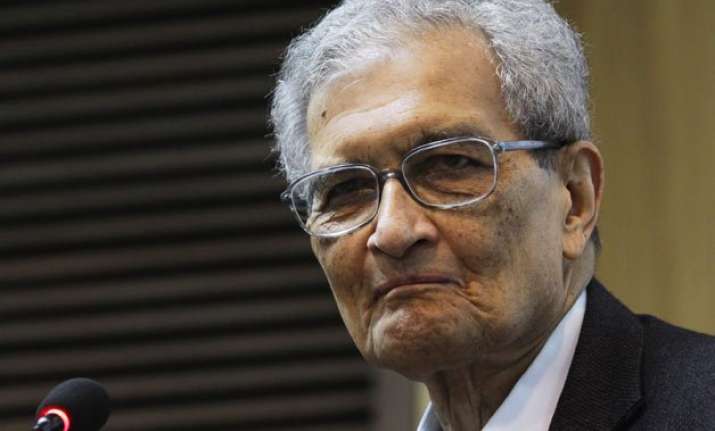 New Delhi: Nobel laureate Amartya Sen has accused the central government of blocking his second term as Chancellor of Nalanda University.
In a five-page letter to the governing board of the University, Dr Sen has announced that he is opting out of second term in the post, despite the board unanimously voting to elect him on January 13.
Criticizing government's interference in academia, he wrote in the letter, "I am also sad, at a more general level, that academic governance in India remains so deeply vulnerable to the opinions of the ruling Government, when it chooses to make political use of the special provisions. Even though the Nalanda University Act, passed by the Parliament, did not, I believe, envisage political interference in academic matters, it is formally the case – given the legal provisions (some of them surviving from colonial days) - that the Government can turn an academic issue into a matter of political dispensation, if it feels unrestrained about interfering."
"This, as you might recollect, also happened to the revised Statutes that the Governing Board passed unanimously last year. Many of these Statutes (including the one pertaining to the Chancellor's term of office) also never received formal acceptance or rejection from the Ministry of External Affairs, which had the role of coordinating with the Visitor's office," Sen added.
"... The Governing Board was kept completely in the dark about an attempted unilateral move by the Government to rapidly reconstitute the entire Board, and to do this in violation of some of parts of the Nalanda University Act (reflected especially in the letters that have already been sent out to foreign governments, departing from the provisions of the Act as it now stands)," he further adds in the letter.
Dr Sen wrote that his stand to discontinue from the post after July was because neither President Pranab Mukherjee nor the Ministry of External Affairs (MEA) replied to the board's decision.
"As board members are aware, our visitor — President Pranab Mukherjee — has always taken a deep personal interest in the speedy progress of the work of Nalanda University, and given that, we have to assume that something makes it difficult — or impossible — for him to act with speed in this matter," Sen wrote in his letter.
"Non-action is a time-wasting way of reversing a Board decision, when the Government has, in principle, the power to act or not act," Sen added.
"It is hard for me not to conclude that the Government wants me to cease being the Chancellor of Nalanda University after this July, and technically it has the power to do so," said Sen.
Since Dr Amartya Sen has been a strong critic of Prime Minister Narendra Modi and had publically opposed his PM candidature, his letter may snowball into a political controversy