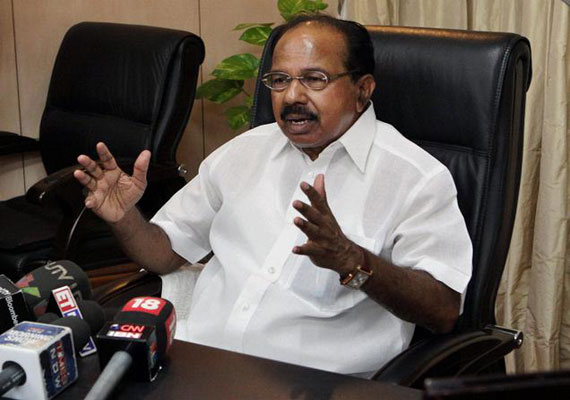 New Delhi, Nov 30: Government is considering raising cap on supply of subsidised LPG cylinders and a decision will be taken in the "next few days", Petroleum and Natural Gas Minister M. Veerappa Moily said in the Lok Sabha on Friday.
"We are considering it (giving more than six subsidised cylinders) and need a few days time," he said during Question Hour.
"We are applying our mind on this issue," he said after Opposition members cornered the government on the LPG cap and demanded that the decision be rolled back as it affected the common man who is already burdened by price rise.
Mr. Moily said he will discuss with the Finance Minister and the Prime Minister as to what the government could do.
He said the government knew the hardships faced by women and it has received several representations from the people and MPs on it.
His response came on a supplementary raised by Leader of the Opposition
Sushma Swaraj
who said this was for the first time that a government has rationed LPG cylinders to only six per family per year. Families which need more than six cylinders will have to shell out Rs 900 per bottle, he said.
"This is such an inappropriate decision. The government has taken this decision even as prices are skyrocketing. Will you take back this decision and stop rationing cylinders?" she asked.
Mr. Moily said over Rs 1,64,000 crore subsidy is being paid by the government at present. "We do not have a surplus of LPG. 75 per cent of the world's LPG is consumed by India. In other countries both electricity and gas is used," he said.
This did not satisfy the BJP members who were on their feet to press for their demand for rolling back the cap. They shouted "Remove the LPG cap", "Stop LPG politics", while TMC members walked into the Well and demanded that the subsidy be increased.
Mr. Moily said even after the capping of LPG cylinders the subsidy burden on it is Rs 36,000 crore. Members of SAD, JD(U) and other parties were also on their feet.
Sudip Bandopadhyaya (TMC) said each family should be allowed 24 cylinders per year at the rate of two LPG bottles per month.
SAD member Harsimrat Kaur said there is need for increasing the number of gas agencies as people have to stand in serpentine queues to get cylinders.
JD(U) members walked into the Well to protest against the decision but party president Sharad Yadav asked them to go back to their seats.