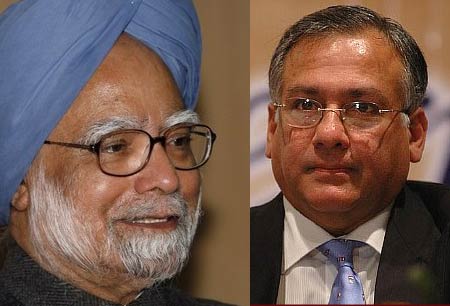 New Delhi, Nov 19: Smarting under Supreme Court's stinging observations, government today replaced Solicitor General Gopal Subramanium with Attorney General Ghulam Vahanvati to appear on behalf of Prime Minister Manmohan Singh in the 2G spectrum issue saying he has to be "properly represented".
Vahanvati, who will represent the Prime Minister in the case on a petition filed by Janata Party President Subramaniam Swamy seeking sanction of prosecution of A Raja, will present the affidavit to be filed on behalf of Manmohan Singh in the court tomorrow.
The decision to replace Subramaniam comes in the wake of embarrassing comments made by the Court on the alleged inaction of the Prime Minister on Swamy's petition for sanction of prosecution of the former minister.
The court yesterday sought filing of an affidavit on behalf of Prime Minister on the correspondence between Swamy and him on his demand.
Vahanvati said he has been asked by the government to represent the Prime Minister while the Solicitor General said it was not not a question of replacement but of "better representation".
However, Swamy said he has no no objection to Vahanvati appearing on behalf of Prime Minister but it would be a violation of law if he speaks on the spectrum issue.
"Because Raja has written a letter to PM on December 26 saying that he got the advice from the Solicitor General, which Vahanvati was then," Swamy told reporters.
However, the AG brushed aside any conflict of interest saying he has not not given  any opinion on 2G spectrum or appeared for former Telecom minister Raja.
"I did not appear for Raja. I appeared for Department of Telecom before TDSAT and once before the Delhi High Court," Vahanvati said.
Explaining the decision rope in AG, Law Minister Veerappa Moily said it was done to ensure that the Prime Minister was "properly represented".  While the SG will represent the Department of Telecom, Additional SG Haren Raval will represent the CBI.
"Now it is a different case.  Since the SG was present, he represented (the PM).  Now now we are making a pucca case," Moily said. PTI