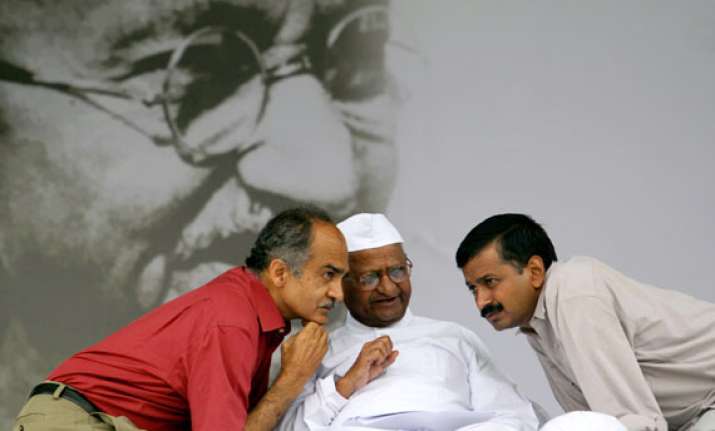 New Delhi, Dec 21: Team Anna tonight accused the government of "blatantly" defying Parliament by coming out with a separate grievance redressal bill when it has passed a resolution that such a provision will be part of Lokpal. 

The Anna supporters said the 'Right of Citizens for Time Bound Delivery of Goods and Services and Redressal of their Grievances Bill, 2011' was "impractical" and "fully centralised".

In a statement, they said Prime Minister Manmohan Singh has given a written assurance to Anna Hazare that Citizens' Charter, lower bureaucracy and state Lokayuktas will be part of Lokpal bill.

"Just opposite (to what was passed as a resolution in Parliament), three months later, the Prime Minister has given his assent to a separate Citizens' Charter in a Cabinet meeting on December 13. That bill will now be sent to Parliamentary Standing Committee.

"The Prime Minister himself had written to Anna on August 27 that Citizens' Charter will be part of Lokpal Bill. Why is he going back on his promise? Parliament unanimously passed the resolution. What happened to that? They are blatantly defying it. They are cheating Parliament," they said.

Seeking to find loopholes in the bill, Team Anna said the government law was meant to centralise the whole grievance redressal system and demanded that the Lokayukta bill passed by Uttarakhand should be the model for it. 

"According to government law, if a particular officer does not provide a service, a citizen can approach his grievance redressal officer. Even after that his problem is not addressed, then the complainant should approach an appellate authority outside the department. 

"If the complainant still remains unsatisfied, he has to approach state-level ten-member Commission. An appeal against this has to go to a Lokayukta," Team Anna said. 

Claiming that the proposed mechanism is "impractical" and "centralised", they said how can a 10-member state level body address crores of complaints from each and every nook and corner of the state.

However, they said the Uttarakhand model was more decentralised and it should be adopted.

 In the Uttarakhand model, they said, the complaints will first forwarded to the designated grievance redressal officer and then to department head in case of an appeal. 

"If there is a complaint against department head, then it will go to the officers appointed by Lokayukta at block levels and it is their responsibility to ensure that the grievances are addressed within 30 days...Appeals against the orders by these officers are not allowed," they said. 

They claimed the Uttarakhand model is decentralised and that the grievances are addressed at block level itself.