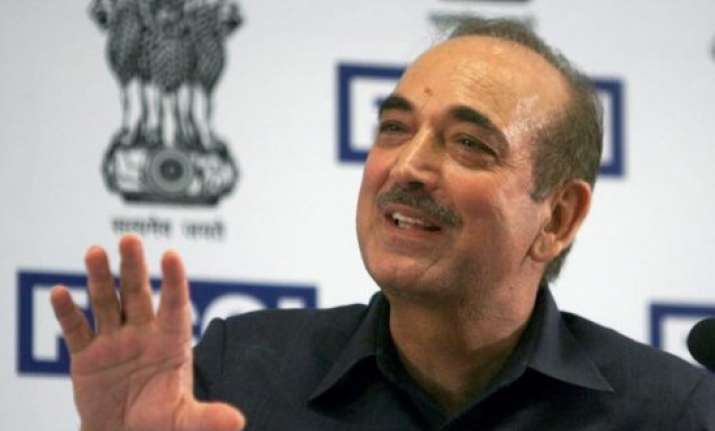 Jammu: Condemning Pakistan for resorting to unprovoked offensive along the border and LoC in Jammu and Kashmir, Congress leader Ghulam Nabi Azad today said that Indian forces are capable of repulsing in a befitting manner.  
Addressing poll rallies at various places in Haryana, Azad also slammed the Prime Minister Narendra Modi-led NDA government for misleading the people with politically motivated statements aimed at getting votes even as lakhs of people were affected on the border.
"We condemn Pakistan for once again resorting to unprovoked firing on Indian territory since yesterday in Arnia and Poonch. India and its brave forces are capable of thwarting the attempts of aggression being thrust upon them by Pakistani troops," Azad said in a statement here today.  
The repeated and unprovoked ceasefire violations targeting our civilian areas showed the cheap attempt of Pakistan government to divert attention from its internal problems which it is unable to overcome, he said.  Addressing meetings at Ferozpur Jhirka, Penagva, Bas Dalla, Hateen and Tavru in Haryana, he slammed the Centre, saying the NDA government was trivialising the sufferings of lakhs of border residents.
The Prime Minister's boastful assurance in a public meeting two days ago, where he claimed to have silenced Pakistani guns, has only proved to be mere rant aimed to secure few votes, he said.
Azad also attacked Modi for extending protocol and and "sharing the swing" with the Chinese President Xi Jinping even as their troops intruded into our territory.  He said Modi was going back on his poll promise to stop ceasefire violations and Chinese incursions.  Stating that it is the right of the people to ask questions to the government they have elected, he asked the NDA government to not silence the voices instead of silencing Pakistani guns.
He urged the NDA government not to make politically motivated statements for playing vote bank politics, at least on issues relating to security and territorial integrity of the country.
Asserting that it is in the DNA of Congress to give primacy to national interest over narrow partisan considerations, Azad said we are fully behind our armed forces and the nation in fighting the acts of aggression from Pakistan.
Reminding that Congress supported the NDA government earlier on crucial occasions, irrespective of political considerations, he mentioned the Lahore considerations, Azad said that we fully supported NDA during Lahore Bus Yatra, Kargil war and in 2001.
He further said that border tensions escalate when BJP and NDA assume power at the Centre making the people of border areas suffer inexplicable hardships and pains.  "When did Kargil happen? When did the slogans of 'Aar Par ki Ladai' reverberate in the air as the country saw a massive border build-up in 2001?" he asked, referring to the time under Atal Bihari Vajpayee.
Reacting to BJP's allegations that Congress was trying to gain political advantage, Azad recalled that it was Modi and BJP who set the precedent of politicising subjects of national security and foreign policy before the Lok Sabha elections.  
Asserting that nationalism is not the copyright of BJP as it tends to believe mistakenly, he said Congress's role and contributions from freedom struggle to building India into a strong and self-confident country cannot be erased from the annals of history as well as minds of the people.  He further said that this is anti-thetical to the very grain of Constitution and democratic values which Mahatma Gandhi and our founding fathers have visualized for this country.
He claimed that the stature and prominence which Prime Minister Modi and BJP leaders are enjoying in the world is the legacy which Congress has left behind which the entire world admires with awe and envy.
He said that while the whole world is acknowledging India as an emerging power, BJP and its leadership were busy denouncing and criticising Congress which put the country on the path of progress and development.  
"I want to repeat that we have handed over a very strong country to NDA which is on the threshold of becoming a world power, and this obviously could not have been achieved with mere change of guard in Delhi or in a few months," he said.  Asking BJP to stop criticizing Congress, he said it would be better for them to compare India's achievements with neighbouring countries and the countries which attained Independence with us.