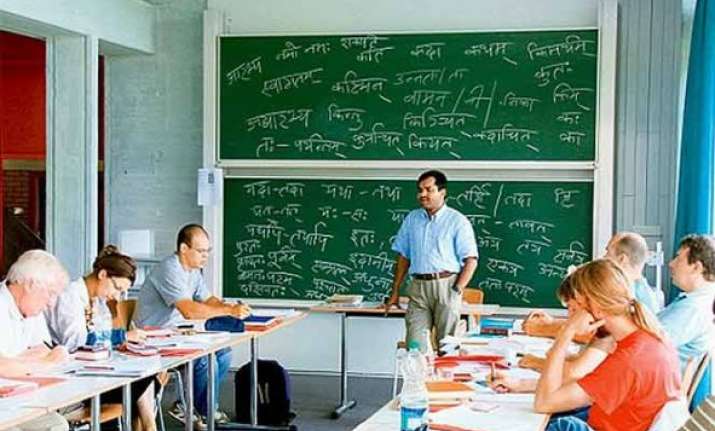 New Delhi: One of the oldest languages known to the  mankind, Sanskrit is spreading its wings to various foreign countries. Time and again, foreigners have showed their interest in this language which is considered as the mother language of various other languages. The most recent country which has started practicing the language is Germany.
14 of the German universities teach Sanskrit, both classical and modern Indology, compared to just four in the UK. The summer school spans a month in August every year and draws applications from across the globe.
The way Germans are demanding for Sanskrit and Indology courses, it won't be surprising if they turn out to be the eventual custodians of the language.
Unable to cope with the flood of applications from around the world, the South Asia Institute, University of Heidelberg, had to start a summer school in spoken Sanskrit in Switzerland, Italy and - believe it or not - India too.
"When we started it 15 years ago, we were almost ready to shut it after a couple of years. Instead, we had to increase strength and take the course to other European countries," said Professor Dr. Axel Michaels, head of classical Indology at the university as quoted by Mail Today.  
"So far, 254 students from 34 countries have participated in this course. Every year we have to reject many applications," said Dr. Michaels.
Apart from Germany, the majority of students come from the US, Italy, the UK and the rest of Europe.
"A significant part of the global cultural heritage will become extinct if major languages like Hindi and Bangla fall prey to Indian English which, in the process, has only got poorer," he added.
Prime minister Narendra Modi recently addressed Indian community in Germany, he said, ""In India, there was no news bulletin in Sanskrit at that time because perhaps it was thought that secularism would be endangered," the prime minister said.
Modi said India's secularism is not so weak that it will be shaken just because of a language. One should have self-confidence.
While one side Foreigners are adapting this language, Indians seems to be loosing interest in the same. The usage of this language in India is decreasing day by day.
According to the experts it is important to introduce Sanskrit at school level as it will enable students to have a better understanding of the subject
Historians, meanwhile, feel that successive governments have taken no initiatives to promote the language among the people.
Recently, the Human Resources Development (HRD) ministry's internal enquiry into the Memorandum of Understanding (MoU) with Germany, making German the third language in Kendriya Vidyalayas, has revealed that neither the Kendriya Vidyalaya Sanghathan (KVS) nor the ministry realised that the move was a violation of the three-language formula.
According to the three-language formula, schools are required to teach Hindi, English and a modern Indian language in schools. Sanskrit, however, is said to be a popular option in northern states.