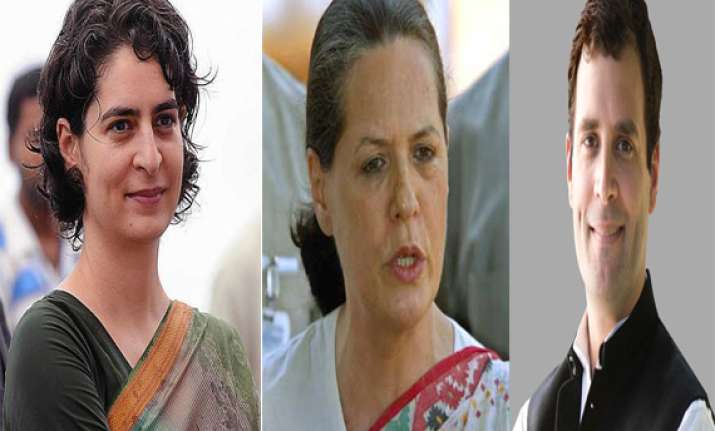 New Delhi: Gandhi family members—Sonia, Rahul and Priyanka—were among early voters as seven Lok Sabha constituencies today went to polls which was preceded by a high-octane campaign among three players—Congress, BJP and Aam Admi Party.
Sonia, accompanied by Congress General Secretary Ajay Maken and Delhi Congress chief Arvinder Singh Lovely, came to the polling station at Nirman Bhavan in central Delhi at around 9.30 AM and went straight inside the booth to vote as there was no queue.
She is a voter in the New Delhi constituency from where Maken is contesting to retain the seat for the third consecutive term. Clad in a white kurta-pyjama, Rahul cast his vote at a polling booth in Aurangazeb Lane at around 10.20 AM. He responded to questions by the waiting media with a smile.
Rahul was also accompanied by Maken and Lovely.
Priyanka, accompanied by her husband Robert Vadra, cast her vote at a polling booth in Lodhi Estate at around 11.30 AM.
Responding to a question, Priyanka said she will only campaign in Amethi and Rae Bareli—the constituencies of her brother Rahul and mother Sonia respectively.
'I will be in Amethi and Rae Bareli,' she said. BJP leader Varun Gandhi exercised his franchise at around noon at the Nirman Bhavan polling booth.
Earlier, talking to reporters, Maken exuded confidence of regaining support of the "Congress vote bank" which he said had gone to AAP in the Assembly polls here four months back.
'People who voted for Arvind Kejriwal were traditional Congress voters who will vote for us this time. We will win all seven seats. There is no Modi wave,' Maken said.
Congress had won all the seven seats in Delhi in 2009 Lok Sabha polls but is facing a stiff fight from BJP and AAP this time.
The party was routed in the Assembly polls in December last year as it could win only eight seats in the 70-member House.