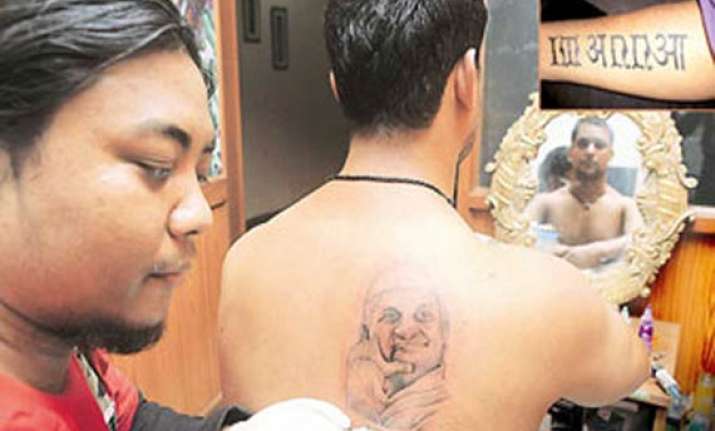 New Delhi, Aug 21: After waving flags and shouting slogans, youngsters are now getting tattoos dedicated to Anna Hazare at the ramlila Maidan here, The Hindustan Times reported. 

While most supporters are opting for temporary tattoos Sachin Gabe, a 28-year-old LIC agent, on Friday got a permanent tattoo of Hazare on his back. He says that he got the tattoo done as a mark of permanent support to Anna and his ideology. "Unse humein itna kucch seekhne ko mil raha hai hai. Agar issue khatam bhi ho jaaye, unki ideology to hamesha rahegi. He has taken a step that no one else did before," says the Tilak Nagar resident.

"Everytime I saw him on the news, mujhe laga mujhe bhi inke liye kucch karna chahiye." Although he plans to join the protest at the Ramlila Maidan and even meet Hazare, he says he will not show the tattoo to him. "Maine unhe yeh dikhaane ke liye nahi kiya hai. Mere mann mein tha isliye maine kiya. Ek tarah ki achhi education mili hai unse. I had been thinking since four days that I should get it done."

Meanwhile, many tattoo parlours in the city are offering complimentary tattoos — both permanent and temporary — to Anna's supporters. Abhijeet Dhaila of RIP tattoos, where Gabe got his tattoo done, says, "We are not charging people who want to get anti-corruption theme tattoos." Lokesh of Devilz Tattooz says, "In the last two weeks, I have done 100 'I am Anna' tattoos for free. I have lost Rs 50,000, but it doesn't matter. The movement does," he says.

Where else to get yours for free

- Outside Ramlila Maidan. "I am visiting Ramlila Maidan and offering complimentary tattoos to people both on the skin and T-shirts. I am doing Anna Hazare's name and the Indian flag. This is my way of supporting the agitation," says Chetan Salhotra of Scorpio Inn in Rohini.

- MJs Tattoo in Paschim Vihar. "We're doing 'Anna Hazare' and 'I love my India' tattoos. These cost R100-800 but we are doing this for free to show support," says Jaspal Singh of the parlour.
-Tattoo Underground in Palika Bazaar. "We've got around 100 queries," says Kishore Rastogi of the shop.