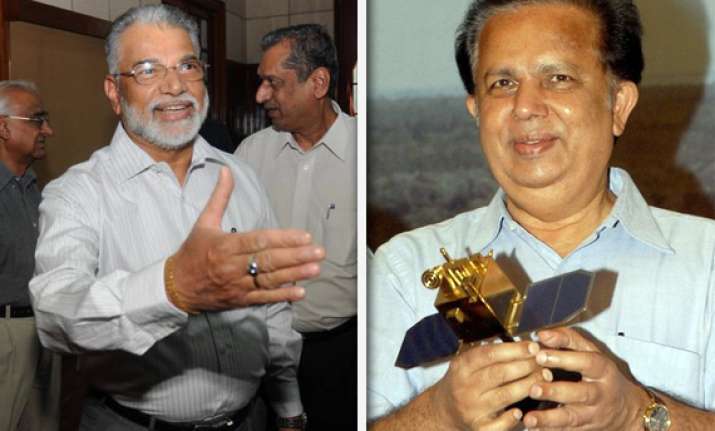 Bangalore, Jan 25: The controversial Antrix-Devas deal has caught up with ISRO's former chairman G. Madhavan Nair and three other space scientists, who have been barred from holding any government posts, present or future, The Hindu reported.

In its order of January 13, the Department of Space states that the "former Officers of the Department of Space shall be excluded from re-employment, committee roles or any other important role under the government".

The other three scientists named in the order are: K. Bhaskaranarayana, former scientific secretary at ISRO, K.R. Sridharamurthi, former managing director of Antrix Corporation (the commercial arm of ISRO), and K.N. Shankara, former director of the ISRO satellite centre.

In February 2011 the Centre scrapped the deal, days after The Hindu and Business Line published an investigation into the inherent irregularities in the agreement.

Under the contract, signed in 2005 during Nair's tenure as ISRO chairman, Antrix Corporation had allowed the Bangalore-based Devas Multimedia unbridled use of 70 MHz of the scarce S-band spectrum over a 20-year period for its digital multimedia services.

The contract was signed without a competitive bidding process, raising questions about the preferential spectrum allocation, which according to the CAG's estimates could have cost the exchequer a loss of over Rs. 2 lakh crore.

In May 2011 the Prime Minister constituted a five-member high-level team under the chairmanship of former Central Vigilance Commissioner Pratyush Sinha to examine aspects of the agreement between Antrix and Devas.

Hurt at the action taken against him,  G. Madhavan Nair on Wednesday accused space agency Chairman K. Radhakrishnan of being behind the move and pursuing a "personal agenda" to mislead the government.

"This is his (Radhakrishnan's) personal agenda. That individual is bent upon hitting so many people and in that process, he is killing the organisation," Nair told PTI in Bangalore.

"He (Radhakrishnan) has misled the government on the whole issue (the controversial Devas deal). He is the key person who worked behind this; he misled and miscommunicated to the government and he has taken action", alleged  Nair, who was the key figure behind India's Chandrayaan-1 moon mission.

The government action against Nair and three other eminent space scientists came in the wake of the controversial Antrix—Devas deal in which a private company was allotted scarce S band spectrum by ISRO allegedly in violation of rules.