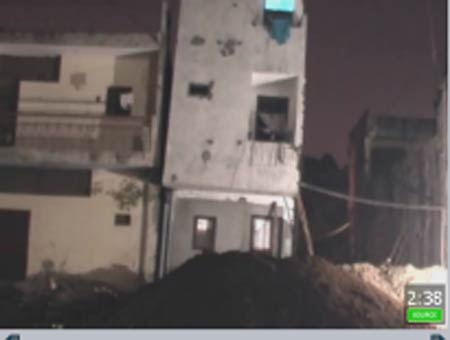 A five storeyed newly constructed building in west Delhi's Mahavir Enclave near Palam area suddenly began leaning by more than three feet towards the right on Friday evening sending residents scurrying to safety.
Police was called in and efforts were made to put iron rods on one side to stop the building from collapsing.  
The building was sold by a lady Shanti Devi to a local builder who reconstructed the five storeyed building. Shanti Devi stays in the first floor of the building. She and her family membersspent the night out in the street.  
The threat of the building collapse has sent residents of neighbouring buildings to evacuate their homes too. A retired armyman Vikram Singh and his family members are now out in the street, as their house is in danger from the neighbouring buidling.
Police have blocked passage on the road leading to the building under threat. The five storeyed building has a parking in the basement.  
Residents say, another builder in the vicinity began constructing a building by digging the foundation deeper, causing this building to lean.  
Police are on the lookout of the builders involved in construction of this building.