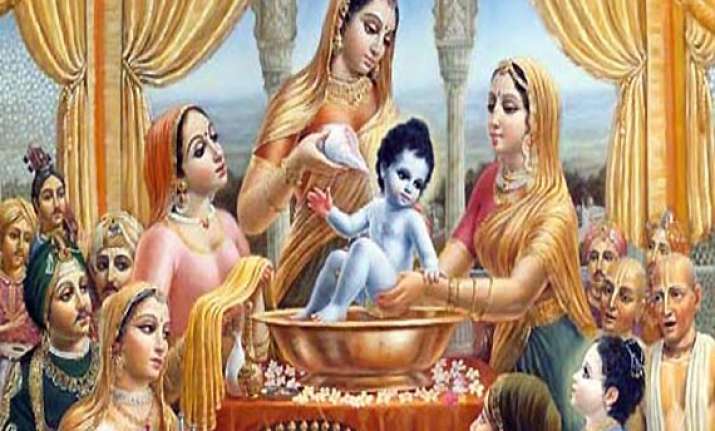 New Delhi: One of India's most popular festivals- Janmashtami- is celebrated throughout India  with  zest and fervour, to commemorate the birth of Lord Krishna- the eighth incarnation  of Lord Vishnu. 
The legend of this festival basically revolves around the birth of Lord Krishna with the purpose of getting the world rid of evils.
Lord Krishna took birth at midnight on the ashtami or the 8th day of the Krishnapaksha or dark fortnight in the Hindu month of Shravan (August-September).
According to legend, he was born inside the Mathura jail on a dark, windy and rainy night, the doors of the jail opened on their own, and his father Vasudev, imprisoned by Krishna's uncle (mama) Kansa, took the infant in a basket, crossed the Yamuna river and handed the infant to the king of cowherds Raja Nanda.
Some Indian scholars claim that Lord Krishna was born between 3200 and 3100 BC though authentic archaeological and historical evidences are yet to emerge.
Krishna is considered as the one of the most powerful human incarnations of Lord Vishnu. 
The sole objective of Sri Krishna's birth was to free the Earth from  demons. 
He played an important role in the Mahabharata war and propagated the theory of bhakti and good karma which are narrated deeply in the Bhagwad Geeta, the celestial song which Krishna gave to Arjuna, the Pandava warrior.
On Janmashtami, devotees of Lord Krishna observe fast for the whole day and night, worshipping him and keeping vigil through the night while listening to his tales and exploits, recite hymns from the Gita, sing devotional songs, and chant the mantra Om Namo Bhagavate Vasudevaya.
Vasudev, Krishna's father handed over  his child to Raja Nanda to save him from the clutch of Kansa. Krishna grew up in Gokul and finally killed his uncle, King Kansa.
Krishna's birthplace Mathura and Vrindavan celebrate this occasion with great pomp and show. Raslilas or religious plays are performed to recreate incidents from the life of Krishna and to commemorate his love for Radha.