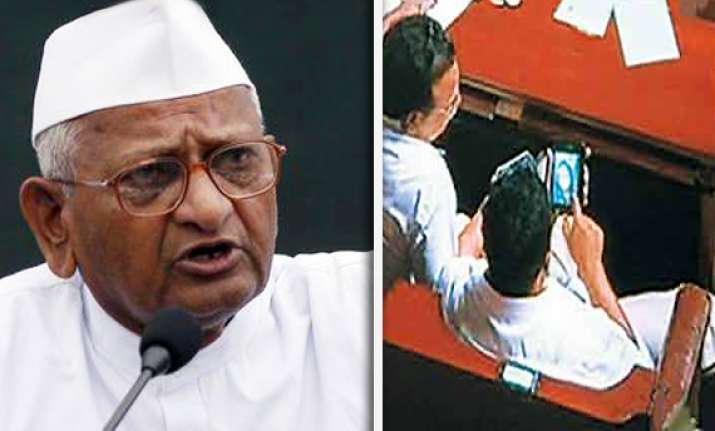 Bangalore, Feb 8: Social crusader Anna Hazare has demanded disqualification of all the three ex-Karnataka ministers for watching porn video inside the Assembly, and has said, they should be sent to jail for "insulting the Constitution and legislature". 

In a statement released here, where he is undergoing naturopathy treatment, Hazare said, the time has now come for a major transformation in the system, and to save democracy and Parliament from such "tainted" people. The whole nation has to come forward, he said.

Hazare said, it is sad to find political parties in the rat race to give tickets to such sleazy politicians.

"Such politicians are there in almost all parties, and they are polluting our Parliament and legislatures. The future of our people and this nation is in danger because of such people's representatives", Hazare said.

"Under the Constitution, the assembly and Parliament are sacred temples of democracy. If representatives of the people watch obscene video inside such sacred temples, it is an insult to our constitution.

"The entire nation watches these people's representatives, what they eat, what they drink, how they live. If such leaders watch obscene film, then how can they build character for the people. Such leaders should be expelled from the Assembly immediately, and should be sent to jail for insulting the Constitution and Assembly", Hazare said.