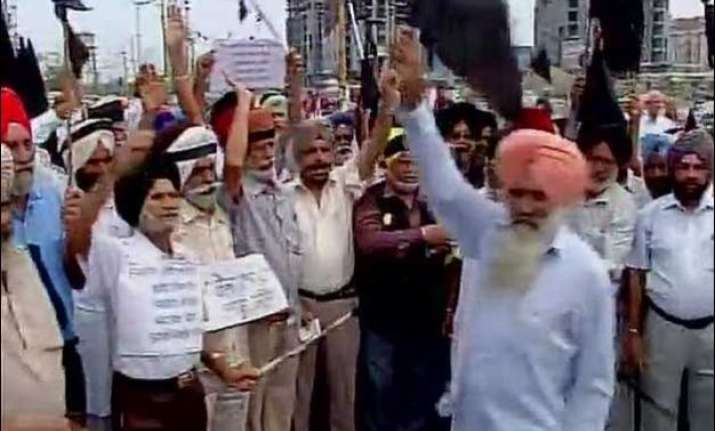 Mohali: Several ex-servicemen held a protest against the delay in implementation of One Rank One Pension (OROP) scheme by Narendra Modi-led NDA government here on a day when Defence Minister Manohar Parrikar is visiting the city. 
The ex-servicemen from Mohali, Chandigarh and Panchkula owing allegiance to different associations gathered at a Sikh shrine in Sohana carrying black flags, anti-government placards and raising slogans against the Modi government.
The protesters were stopped by a heavy police force by barricading the road which led to the venue where Defence Minister Manohar Parrikar is scheduled to inaugurate an institute. The demonstration is held at some 2 kms away from the venue. 
Sounds of 'Jai Jawan Jai Kisan...we are not beggars' echoed in the air during the protest. 
"We protest against the NDA's failure to implement OROP and want to register our anger against the centre by showing black flags to the minister for his failure to implement the scheme," said Brigadier (Retd) Harwant Singh, representative of the United Front of Ex-Servicemen (UFESM). 
"The Defence Minister has often mouthed platitudes for soon implementing OROP but has not given a firm date when that 'soon' would arrive," he said.
Parrikar is on a visit to Mohali for the inauguration of 'Mai Bhago Armed Forces Preparatory Institute', set up by Punjab government to impart specialised training exclusively to female aspirants across the state to join the Armed Forces in the country. 
"Our anger is not against any person but against the government's policy of enormous delay in implementing OROP. We will remain peaceful and disciplined during the said demonstration," he said. 
Meanwhile, elaborate security arrangements have been made for the Defence Minister's visit. 
"We have taken all possible measures for the peaceful and smooth conduct of the function in which the Defence Minister is participating," DIG R K Jaiswal said, adding, nobody will be allowed to create any obstruction during the visit. 
As many as 1,200 security personnel were deployed for the function here. 
The ex-servicemen made a vain attempt to cross the barricades so that they can march to the venue of the function. 
"We are law-abiding citizens and our protest will continue for our genuine demand," Brig Kuldip Singh Kahlon (Retd) President of All India Defence Brotherhood said. 
Former-servicemen owning allegiance to All India ex-servicemen league were also among the protesters. No untoward incident is reported, police said, adding, that the union minister would be taken from a separate route to the venue.