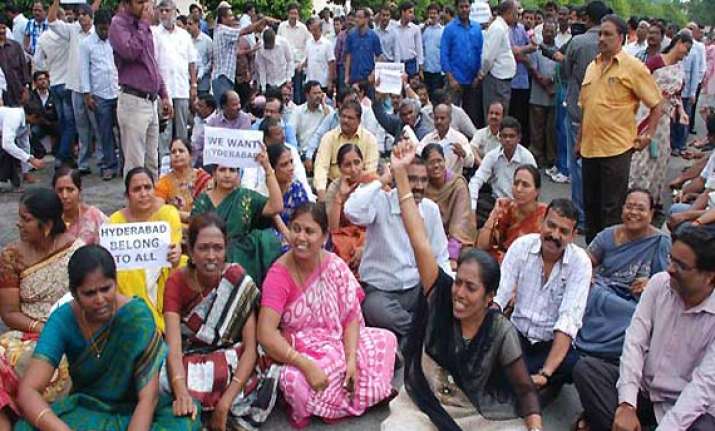 Rajahmundry (AP): The wife of a former Andhra Pradesh Minister, who was on a fast for the past six days to protest proposed bifurcation of the state, was forcible shifted to a hospital amidst high drama in the wee hours today.
Vani, wife of former Andhra Pradesh Stamps and Registration Minister Thota Narasimhmam, was moved by police to the Government General Hospital (GCH) at Kakinada, where she broke her fast, under the supervision of top district officials, a police officer said here.
The officials, including East Godavari Collector Neetu Kumari Prasad and Superintendent of Police Shiv Shanker Reddy, reached the 'fast camp' at Bhanu Gundi Centre in Kakinada, the district headquarters, at around 2 AM.  
A scuffle broke out between supporters of united Andhra Pradesh and police personnel, who forced their way into the fast camp, from where Vani was taken to the hospital in an ambulance for treatment, he added.
Tension prevailed for sometime in the area, but situation was quickly brought under control, the officer said.  
"The doctors are attending to Vani. She has broken her fast and fluid has been administered to her," Venkat B, GGH Superintendent, told PTI this morning. "The doctors are monitoring her condition."
Andhra Pradesh Congress affairs in-charge Digvijay Singh, Chief Minister N Kiran Kumar Reddy, Union Ministers Pallam Raju, Chiranjeevi, Kavuri Sambasiva Rao and Panabaka Lakshmi had last night appealed to Vani to end her fast and invited her to express her views before the Antony Committee, which is looking into the concerns raised by Seemandhra leaders in the wake of Telangana statehood decision.  
"As her health condition had deteriorated, doctors advised to call off fast. The doctors said if she did not do so, she will slip into coma. The district administration then took action and shifted her to the hospital," Narasimhmam said.