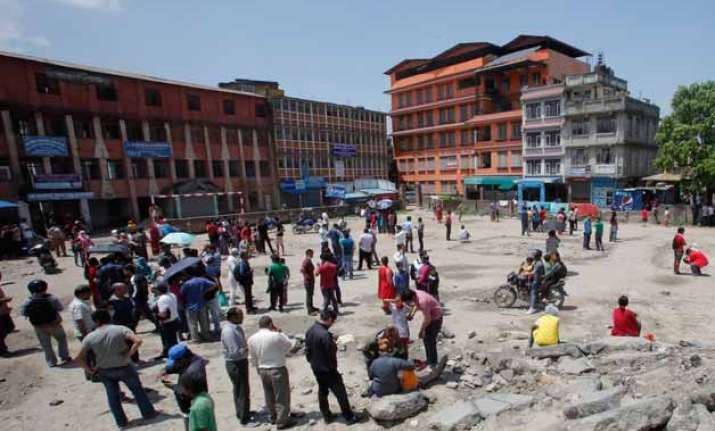 A new 7.3-magnitude earthquake and seven powerful aftershocks struck Nepal today killing at least 50 people and triggering panic in the Himalayan nation already devastated by a monster temblor less than three weeks ago that had claimed over 8,000 lives.
According to Nepal Police Spokesperson Kamal Singh Bam, the fresh quake that hit hardest in remote mountain districts northeast of the country's capital Kathmandu killed at least 50 people, injuring more than 1,100 people besides causing further physical damages. Unofficial reports put the death toll at around 60.
Over 50 people, including at least 20 school children, were injured in northern West Bengal, as tremors were felt in most parts of the state including capital Kolkata on Tuesday, officials said.
However, there were no reports of any death so far, said state home secretary Basudeb Bandopadhyay. Chief Minister Mamata Banerjee appealed to people to remain calm.
In Kolkata, Metro train services were halted due to the tremors, which were also felt in Murshidabad, Durgapur, Siliguri and other places.
A high-intensity earthquake measuring 7.3 on the Richter scale epicentred in Nepal sent strong tremors through several eastern and northern parts of India on Tuesday, leaving 17 dead, including 16 in Bihar, and causing panic.
Bihar once again bore the brunt of the temblor that occurred less than three weeks after the monster quake that devastated Nepal, with 38 of the 39 injuries reported from the state.
The Home Ministry is collecting information from states about the damage caused by the quake and National Disaster Response Force has been put on alert, Union Home Minister Rajnath Singh said.
Director General of IMD LS Rathore said aftershocks could continue for weeks or maybe months.
Tuesday's quake in Nepal caused at least one death in neighboring Tibet
A landslide triggered by the quake killed one person and injured three, according to China's state broadcaster China Central Television.
Two houses also collapsed, CCTV said, quoting disaster relief headquarters of the regional Tibetan government.
It was strongly felt in Tibet's Jilong and Zhangmu regions, and slightly felt in the Tibetan capital Lhasa.
1 killed, 2 injured in quake in UP
A man was reportedly killed and two others were injured today as Uttar Pradesh was rocked by an earthquake, that had its epicentre in Nepal.
Mahesh (30) was killed in Maudaha area in Hamirpur district when the roof of a newly constructed platform of a cremation ground collapsed, a police spokesman said.
He said that two persons were injured in the incident and have been admitted to a hospital.
The tremors were felt twice in the state, forcing people to rush out of their offices and apartments and affecting communication and transportation services.
16 persons were killed and 36 others injured in incidents of wall and roof collapse in Bihar which was rattled by two high intensity quakes and five moderate ones today, over a fortnight after the April 25 temblor that claimed 58 lives in the state.
Chief Minister Nitish Kumar told newsmen "We have information regarding death of 15 persons in incidents related to earthquake today. There is confirmation of six deaths and for rest the confirmation process is on."
Kumar ordered closure of all schools in Bihar for summer vacation from tomorrow itself.
"The summer vacation is scheduled to start in schools in the next 2-3 days so I have ordered to advance it and declare summer vacation from tomorrow itself in view of earthquake fear and possibility of more aftershocks," Kumar said.
Video: Strong earthquake shakes Nepal
* Six strong aftershocks followed in quick succession. Four of the aftershocks were in the epicentre Kodari.
* MHA is in constant touch with the states.There is no loss of life or property reported so far: Government of India
B-town stars unsettled by latest earthquake
Actors Shahid Kapoor, Sonakshi Sinha and Parineeti Chopra were shaken up by the powerful earthquake that hit Nepal today, just two weeks after a devastating temblor that shook the country, killing more than 8,000 people.
The latest quake measured 7.4 and struck some 83 kilometres east of Nepal's capital Kathmandu. It also shook West Bengal, Delhi and several parts of North India today.

* Aftershocks will continue for weeks or may be months: LS Rathore (DG,IMD)
Dozens of buildings which had developed cracks in the April 25 temblor collapsed today when another major earthquake shook the country. An eyewitness said that he saw a building collapse in Kathmandu. Another said that he saw debris falling on a taxi packed with people.
Onlookers were left dazed and distraught on seeing the buildings collapse with a roar, a replay of the April 25 quake horror.
Uttar Pradesh Chief Minister Akhilesh Yadav, who was at a function in Lucknow , was rushed outside by  his security staff  after a major earthquake rocked north and east India.
Surprisingly, UP CM along with several others were found ogling at the sky after the earthquake.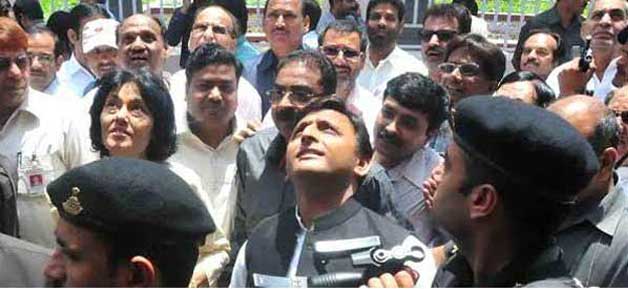 The National Disaster Response Force (NDRF) has been put on alert after two earthquakes struck India with epicentres in Nepal and Afghanistan.
"The Home Ministry is collecting details and information about any damage from earthquake in India. NDRF has been placed on alert," Home Minister Rajnath Singh said today.
* Bihar CM Nitish Kumar directs Chief Secretary to assess situation
* The shaking seemed to go on and on: said Rose Foley, a UNICEF official based in Kathmandu.
* Under construction building collapses in Hamirpur in UP, one dead
* Second earthquake measured 5.6, epicenter 25km SE of Kodari, Nepal: USGS
Kathmandu airport closed
Nepalese authorities ordered the closure of Kathmandu airport after a new earthquake sparked panic in the capital.
"The airport is closed for operations right now," Birendra Prasad Shrestha, manager at Kathmandu's Tribhuvan International Airport, said.
* India will provide full support to Nepal wherever required: HM Rajnath Singh after another earthquake hits Nepal
Tremors felt across India
Several parts of India also felt the tremors. Rajnath Singh tweeted that MHA is collecting more details & information. Tremors were felt in several parts of the north India including Patna and Lucknow at 12:35:19 pm.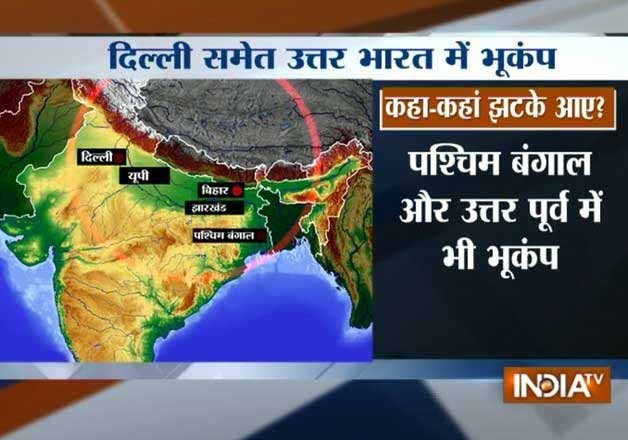 * Tremors were also felt in China, Indonesia and Afghanistan
* First quake was of 7.4 magnitude on Richter scale. Epicentre 83 kilometres east of Kathmandu
According to Nepal government, Ministry of Home Affairs, epicentre of the quake is between Dolakha and Sindhupalchowk.
The Delhi Metro train services were also affected for some time due to the earthquake. Trains were operated with a slow speed and stopped for more than 10 minutes at metro stations in order to ensure safety of passengers.
Mobile services were also affected.
Powerful earthquakes today shook Nepal and several parts of north and east India, less than three weeks after the region was struck by a devastating temblor.
This is the second major earthquake in last fortnight.
It is worth a mention that Nepal was recently jolted by a massive earthquake. The earthquake killed more than 8,000 people and injured more than 18,000, occurred on 25 April, with a moment magnitude of 7.8 on Richter scale. The epicentre was the village of Barpak, Gorkha district, and its hypocenter was at a depth of approximately 15 km.