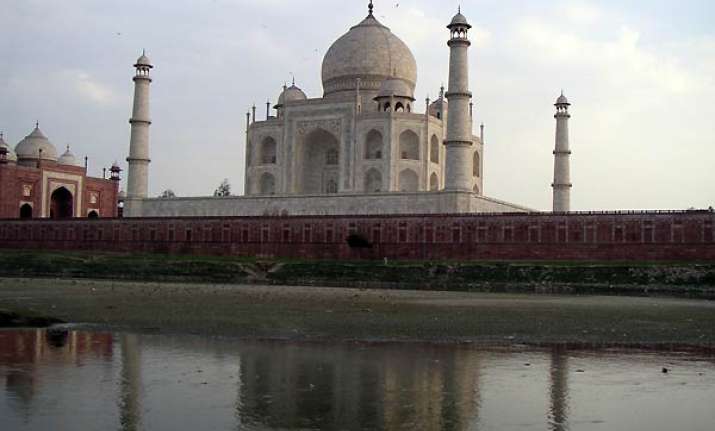 Agra, Apr 12: The world famous Taj Mahal is facing a threat to its foundations due to a perenially dry Yamuna river, say experts, according to  Times Of India.

When Shah Jahan decided to build the Taj Mahal on a wooden base on the banks of the Yamuna, he got everything right from design to science. Except for one thing: he never factored in the Yamuna going dry.

In the Mughal era, wood was used to lay solid foundations. And Shah Jahan did not cut corners on the ebony which props the Taj up.

But even the finest ebony in the world needs a steady stream of moisture to ensure it does not expand or contract, posing a grave threat to the structure.

That is where, experts say, a dry Yamuna could play havoc with the Taj Mahal's foundation.

In the past decade or so, the 'perennial' Yamuna has been drying up completely in the summer months in Agra, posing a potent threat to the Taj Mahal.

Fearing the worst, a Save Taj campaign has gathered momentum in Agra with everyone from environmentalists, activists, politicians and businessmen joining hands. Agra MP R S Katheria (BJP) went knocking at the door of Rashtrapati Bhavan last month.

On March 23, Katheria led a delegation to President and pleaded for ''a decent water level in Yamuna''.

Quoting from a recent latest book by professor R Nath (another Taj activist), Taj Mahal History and Architecture, he claimed that the depleting water would eventually dry up the wood, make it shrink and crack, and spell doom for the edifice.

The MP is now rooting for an independent agency to inspect the boarded and barred basement of Taj Mahal.

''No one has been allowed to enter the 16 underground chambers for more than three decades and we have only ASI's word that all is well. However, there are reports that the area shows visible signs of decay. Therefore, public fears need to be allayed,'' he said.

Raman, a member of the monitoring committee appointed by the Supreme Court for the Taj, voices the same concern. ''Taj is built on wells that have wooden shafts. A dry Yamuna would naturally spell doom for their long-term survival and damage control measures are needed,'' he told TOI.