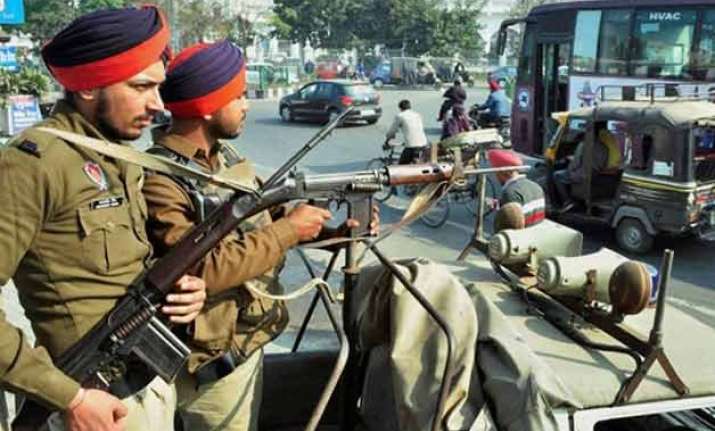 Chandigarh: Security forces will not take any claim about sighting of suspected terrorists lightly and act fast to verify the information, a senior Punjab police official said today.
"We will take information (about suspected terrorists) very seriously and act fast on the same to verify the claims," DIG, Border Range, Kunwar Vijay Partap Singh said today.
The effort is to either authenticate the presence of militants or completely rule it out, the DIG added.
However, police did not receive any information about sighting of suspected terrorists today, Gurdaspur SSP Gurpreet Singh Toor said, adding "We will continue to remain alert."
Notably, Punjab police came under severe criticism after reports emerged that police, initially, did not take seriously information provided by SP Salwinder Singh about abduction of his and two associates by terrorists. However, state police has denied it.
After six terrorists striking at Air Force base station at Pathankot, security forces have been on their toes as many locals in and around Gurdaspur district claimed to see terrorists, promoting the security officials to launch extensive search operation to authenticate their claims.
The first information about presence of two terrorists emerged in Gurdaspur district on January 6 when a farmer, Satnam Singh, of Pandher village claimed to have seen two men in army fatigues moving in suspicious manner when he was working in the fields.
Not taking any chances, area around Tibri cantonment area was cordoned off and security officials in a joint operation of Punjab Police, BSF, SWAT team and Army launched extensive search operation in Pandher village in Gurdaspur.
During this operation, drone, chopper, dog squad and bullet proof vehicles were pressed into service to trace the location of suspects.
As security officials were busy in conducting their search operations, another witness identified as Lovepreet Singh claimed that two suspects in army fatigues had inquired about Tibri cantonment area.
However, security forces had to call off their extensive search operation yesterday after they found no suspected terrorist.
A day before yesterday, Punjab police launched a major combing operation at a house near the Tibri cantonment area after it got information of two suspects.
However, security officials did not find anything suspicious during six-hour long operation.
Yesterday, another villager claimed that he had seen "two suspects" in army fatigues at sensitive Tash Pattan area near the Indo-Pak border.
Security officials immediately swung into action but again nothing suspicious was found.
Notably, Director General of Police (DGP), Punjab directed the cops to augment night time deployment of the police in the state in the wake of terrorists attack at the Pathankot Air base.