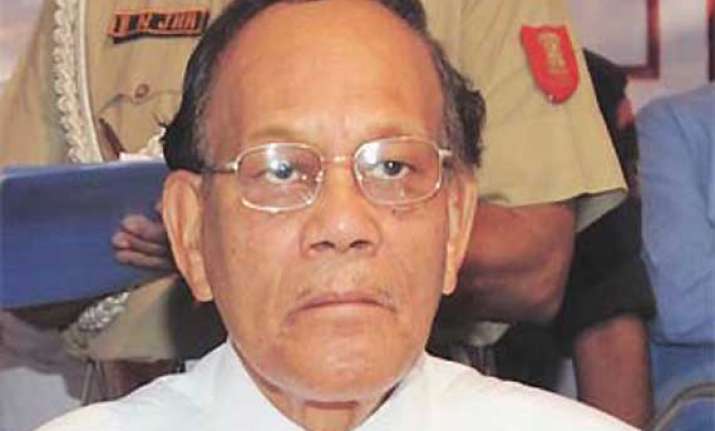 Agartala, Mar 25: Former Assam Congress minister Devanand Konwar, who was the governor of Bihar, Monday took oath as 13th head of the state of Tripura.
Since Tripura become a full fledged state in January 1972, Konwar - an educationist-lawyer-turned-politician - is the first person from the northeastern region to assume office of the governor of that state.
He succeeded D.Y. Patil, who was shifted to Bihar.
New Chief Justice of Tripura High Court Deepak Gupta, who assumed office Saturday, administered the oath of office and secrecy to the 77-year-old Konwar.
Tripura Chief Minister Manik Sarkar, his cabinet colleagues, leaders of political parties and top civil, army and police officials were present at the brief oath-taking ceremony at Raj Bhavan.
The Left Front government in Tripura earlier strongly criticised the central government for unilaterally appointing Konwar as the governor of the state.
"The unilateral appointment of governor to a state is undesirable. The union home ministry did not follow the traditional practice of consultation with the state government before appointing the governor," Sarkar had said.
Konwar was the cabinet minister in the Assam governments led by chief ministers Hiteswar Saikia and Tarun Gagoi. He also practised as a lawyer at the Gauhati High Court.
For many years he also worked in a private oil company.
"I shall do my best for the allround development and welfare of Tripura and its people. I will push the developmental schemes put forward by the state government to the centre," Konwar told reporters after being sworn in as the governor.
Over 60 guests - Assam Congress leaders and close relatives of Konwar - also attended the ceremony, conducted by Tripura Chief Secretary Sanjay Kumar Panda.