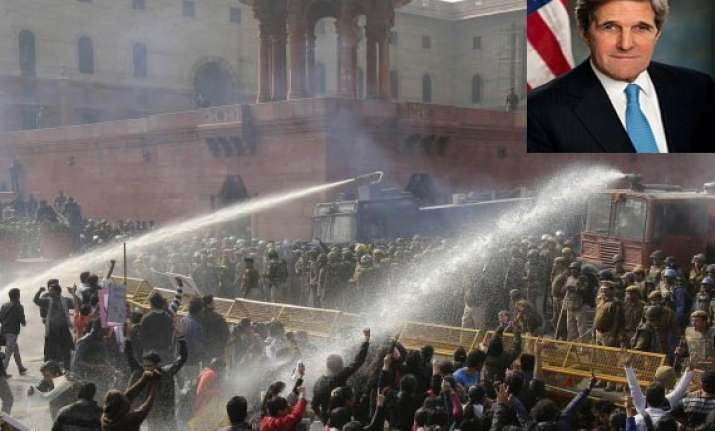 New Delhi, June 24:  The Delhi gang-rape victim and the massive protests against the brutal crime against her came up for mention by visiting US Secretary of State John Kerry in his speech here Sunday.
Addressing a gathering at the India Habitat Centre on US-India Strategic Partnership, Kerry said women and men should strive as equals.
And when "inequalities or violence seeks to stamp out equality as with the tragic death of Nirbhaya, whose memory I was proud to honour at the State Department recently; We must all stand up and say 'No', just as so many did in New Delhi by demanding justice."
On March 8, International Women's Day, the US honoured the 23-year-old woman who was brutally raped by six people on board a moving bus in New Delhi on Dec 16, 2012. She was honoured with a "woman of courage" award posthumously for "inspiring people to work together to end violence against women in India and around the world".
At a State Department presentation in Washington, Kerry had praised the determination and courage of "a woman known simply as Nirbhaya - braveheart, fearless".
Kerry then also read part of a statement from the victim's mother and father that said: "We never imagined that the girl we thought was our daughter would one day be the daughter of the entire world. She was meant to be the daughter of the world. This is a huge achievement in itself."