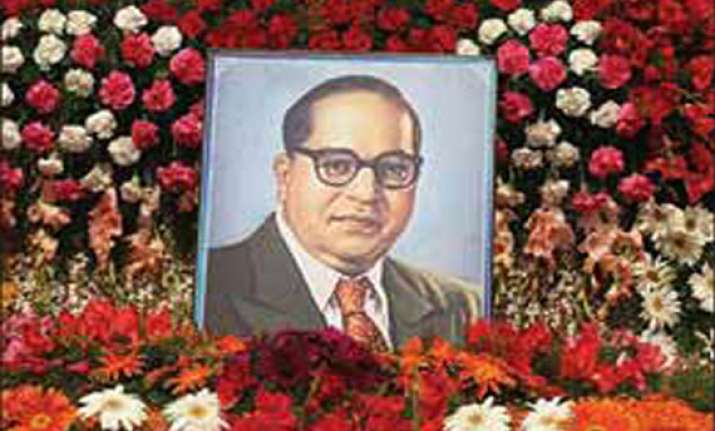 New Delhi, Dec 5:  Decks have been cleared by the Centre to transfer prime Indu Mill land in Mumbai to Maharashtra government for constructing a memorial to B R Amedkar, meeting a long pending demand of several political parties in the state.
"The Government of India has taken a view to make available this land for use to the Government of Maharashtra for the construction of a befitting memorial," Textiles Minister Anand Sharma said in identical statements in the Lok Sabha and the Rajya Sabha today.
The ashes of Babasaheb Ambedkar are interred at Chaitya Bhoomi, situated in the vicinity of the 12.5 acre land of India United Mill, popularly known as Indu Mill, under the National Textile Corporation at Prabhadevi in central Mumbai.
"The government has initiated the process to give effect to this decision and I will be shortly be moving the necessary legislative proposal for Parliamentary approval. I seek the support and endorsement of the House," Sharma said.
Dalit outfits had set December 6, Ambedkar's death anniversary, as the deadline for the state to decide on the issue, failing which they threatened to forcibly occupy the mill premises.
Sharma said the decision was taken respecting public sentiments and in response to the request of the Maharashtra government and taking note of the unanimous resolution passed by both Houses of Maharashtra Legislature.
Sharma hailed Ambedkar as one of India's "tallest" leaders and acknowledged his contribution in guiding the process of framing the Constitution.
A delegation of MPs from Maharashtra, led by Chief Minister Prithviraj Chavan, had met Prime Minister Manmohan Singh yesterday to press for transfer of the land.
Maharashtra government had proposed a grand memorial near Chaityabhoomi, Babasaheb Ambedkar's final resting place in Dadar in Central Mumbai a few years ago.
Earlier, when the Rajya Sabha met for the day, BSP supremo Mayawati and her party colleagues raised the issue vociferously stalling the Question Hour.
The House was adjourned till noon within minutes. When it reassembled, Minister of State for Parliamentary Affair Rajiv Shukla read out the statement.
After that, Mayawati wanted to know how much money would be spent on the memorial, size of land to be alloted and time frame for building it.
Shukla said members can seek clarification later, to which she demanded that the minister concerned should be called to the House immediately.
Ravi Shankar Prasad (BJP) said, "We all honour the great leader as December 6 marked the death anniversary of the leader ...a definite time frame should be set.
Mayawati wanted work to start on the memorial at the earliest.
As she kept insisting for details of the memorial plan, Deputy Chairman P J Kurien remarked, "Textile Minister should be available in the House."
To this Shukla said, "Whatever explanation they are seeking, it will be made available."
Government, which does not have numbers in the Upper House, is banking heavily on BSP for a smooth sail during voting on the FDI issue.