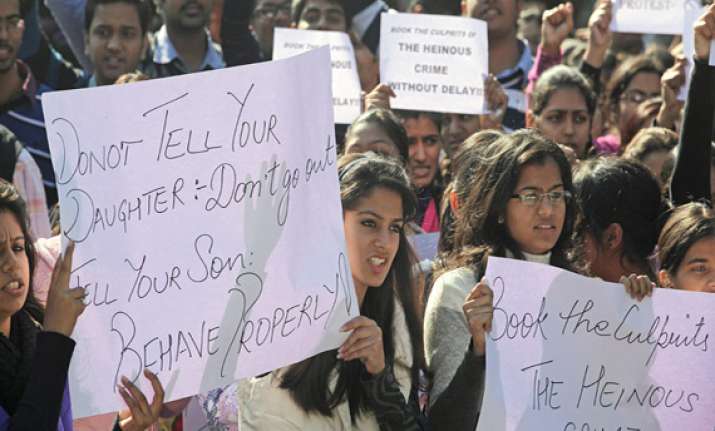 New Delhi: Two men sentenced to death in the Dec 16, 2012, gangrape case Monday filed appeals in the Delhi High Court challenging their conviction and  sentencing.
Vinay Sharma, 20, and Akshay Thakur, 28, filed a joint appeal and sought the trial court's conviction and sentencing orders of Sep 10 and Sep 13 to be set aside.
Sharma and Thakur were held guilty of gang rape alongwith two others.
The appeal claimed that Sharma was 17 years old and should have been proceeded against under the Juvenile Justice Act. Police have claimed he his age to be 20.
"The investigating officer in the case should be directed to bring the record of date of birth of Vinay from his native village and conduct the ossification (bone) test," the appeal said.
The appeal sought modification in the trial court order along with acquittal of the convict.
"Vinay was a juvenile as his age was 17 years and eight months...the court had turned down his plea for ossification test. He is pursuing his graduation's second year from jail. The appellant is also a gym trainer and was financially supporting his family," it added.
The trial court Sep 13 awarded the death sentence also to Mukesh, 26, and Pawan Gupta, 19.
After the death penalty, the trial judge referred the case to the Delhi High Court for confirmation of their sentence.
Sharma's lawyer said he did not have a criminal background. "The person who can donate blood to save another's life can never take the life of anyone," the appeal said.
The appeal filed on behalf of Thakur said his wife was illiterate and could not earn a living for herself and their two children while his elderly parents were suffering from various ailments.
The gang rape victim was a 23-year-old who was brutalised in a moving bus by six people, including a juvenile. The accused then threw her and her male companion out of the vehicle, without clothes, to die by the roadside on the cold December night.
The woman died of grave intestinal injuries Dec 29 at Singapore's Mount Elizabeth Hospital where she was airlifted for specialised treatment.
One of the six accused was found dead in a cell in Delhi's Tihar Jail while a juvenile involved in the crime was Aug 31 sent by the Juvenile Justice Board to a reform home for three years, the maximum term under the juvenile law.