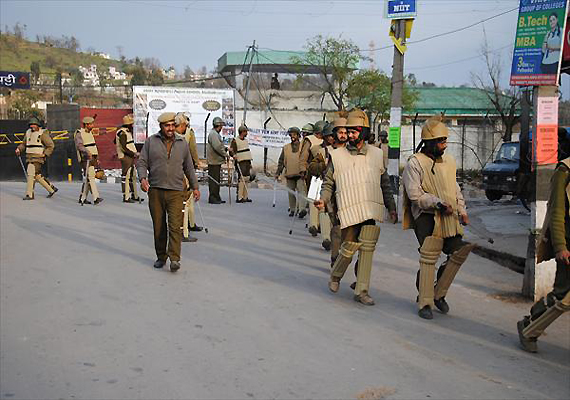 Jammu, Mar 10: Curfew continued for the third day today in the border town of Rajouri in Jammu and Kashmir even as authorities detained three more persons for violating the restrictions imposed.

"The curfew is being continued for the third consecutive day today in Rajouri without any relaxation," SSP Vijay Singh Sambyal said.

No untoward incident has been reported from anywhere in the district so far and the situation is under control, he said, adding that three persons have been detained for violating curfew restrictions last evening.

Additional security personnel have been deployed in sensitive areas of the town to maintain peace and tranquillity, he added.

Police as a precautionary measure had imposed curfew in the town on Thursday after some unidentified persons pelted stones at a religious procession, prompting security personnel to lob tear gas shells to disperse them.

"We have already detained 13 persons in connection with the incident for questioning," SSP said.

The stone-pelters were protesting against a recent remark of VHP international president Praveen Togadia, which they claimed had hurt the sentiments of a particular community.  A case was registered by police in this connection.

Meanwhile, PDP legislators staged a walkout from the Jammu and Kashmir Assembly in protest against the curfew imposed in Rajouri town.

As the Assembly began, PDP members led by the Mehbooba Mufti raised the issue of continuance of the curfew in Rajouri and alleged that the government failed to take measures to bring normalcy in the town.

"The (government) failed to bring normalcy in the border town as curfew is on," Mehbooba said.  Later, the legislators created ruckus in the House seeking reply from the government over the issue.

Speaker Mohammad Akbar Lone intervened and said he had directed the government to sent a team of ministers to Rajouri town to ensure that communal harmony is being maintained.

Unsatisfied with the reply, the PDP members led by Mehbooba staged walkout from the House.

However, the legislators later returned to the House and sought time from the Speaker to speak over the issue but their demand was not met following which PDP members trooped into the well and resorted to noisy scenes.

The PDP chief alleged the state government has closed its "eyes, ears and mouth" over the Rajouri situation.