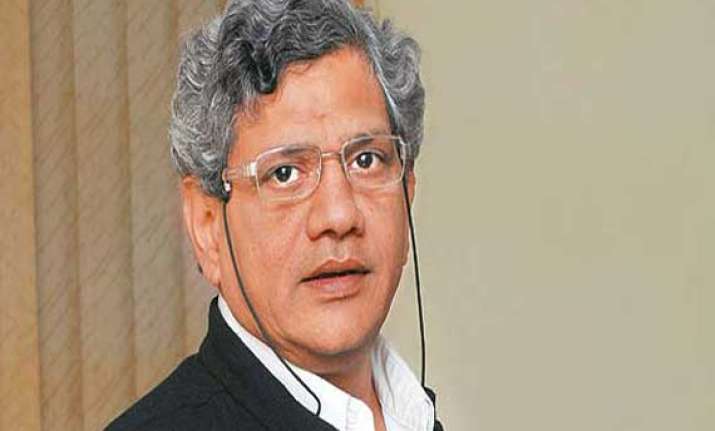 New Delhi: CPI(M) today sought flag marches by central forces following large scale violence allegedly indulged in by ruling Trinamool Congress in West Bengal prior to the last phase of elections tomorrow.
The CPI(M), which met the Chief Election Commission today and submitted a memorandum, also demanded the appointment of special observers on the lines of those for Varanasi for the constituencies in Bengal to ensure a free and fair polls.
Polit bureau member Sitaram Yechury said large scale violence was unleashed by the ruling party in the state and complaints in this regard were being lodged by other political parties contesting in states.
"Given the partisan nature of the state administrative apparatus, it is absolutely necessary for a central officer who must oversee law and order situation and ensure that proper conditions are created for people to vote fearlessly.
"This is the constitutional mandate of EC and we want them to ensure that this right provided by the Constitution is not discriminatory between the high and mighty and the ordinary and marginalised," Yechury told reporters.
Alleging that the central paramilitary forces present in West Bengal were not being deployed properly, he sought for flag marches to instill confidence among people.
"The actual deployment which has to be done by the state government...there is a deficit in the manner these forces are utilised. We want EC to ensure that in every constituency, there are these route marches so that confidence can be instilled amongst people," he said.
Yechury also observed that tomorrow's polls were to be held in 17 of the 42 constituencies in the state, the most in any phase, and these constituencies are mainly concentrated in densely populated areas of Kolkata, greater Kolkata and nearby districts.
Noting that all the attention seemed to be diverted towards Varanasi constituency, Yechury said that although those problems need to be addressed, it did not mean that other issues were to be neglected by the EC.
"Like you have appointed a special observer for Varanasi, similar steps will have to be taken for these 17 constituencies in West Bengal which go to vote tomorrow," he sought.
Yechury drew EC's attention to a CPI(M) candidate who was in hospital with serious injuries after being attacked.