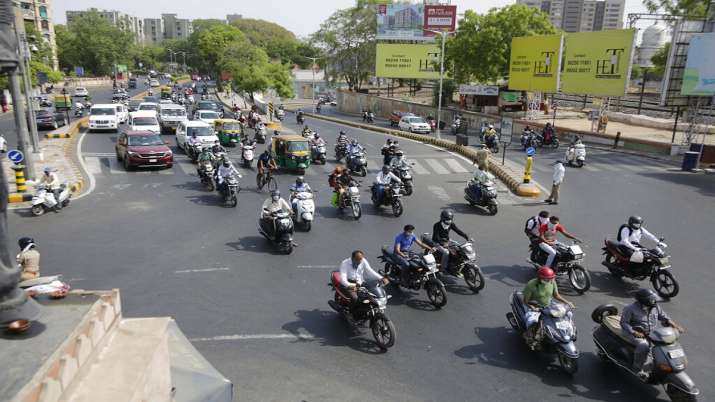 India coronavirus cases have crossed 1.98 lakh mark taking positive cases toll to 1,98,706 including 97,581 active cases 5,598 deaths and 95,527 recovered, according to health ministry's figures released on Tuesday. In the last 24 hours, the country witnessed 8,171 new cases and 204 deaths. From June 1 onwards, the nation entered unlock phase 1 as it slowly moves towards exiting from the lockdown in a phased manner.
Maharashtra, Delhi, Tamil Nadu continues to remain the worst-hit states having maximum number of coronavirus cases. The Delhi government has arranged for 6,670 COVID beds across the city with only 2,692 occupied as of Monday morning, as per the data provided by the government in its 'Delhi corona' mobile app.
The mobile app, to be launched on Tuesday officially, says as of Monday morning, 58 private hospitals were offering COVID beds, however, 52 of these have zero occupancy. It says a total of 6,670 COVID beds are ready with 2,692 occupied while 3,978 vacant.
At least seven government hospitals -- including central and the city -- were offering 3,916 beds, of which 1,862 beds were vacant. "Till 9 am on Monday, total 2,054 beds were occupied in the seven government hospitals," the data said.
Among the six private hospitals having patients were -- Max Hospital offering 225 beds with 197 occupied. Indraprastha Apollo hospital offers 144 beds and 117 are occupied as of Monday morning.
State-wise list of COVID-19 cases, deaths in India
| Name of State / UT | Active Cases* | Cured | Deaths** | Total Confirmed cases* |
| --- | --- | --- | --- | --- |
| Andaman and Nicobar Islands | 0 | 33 | 0 | 33 |
| Andhra Pradesh | 1341 | 2378 | 64 | 3783 |
| Arunachal Pradesh | 21 | 1 | 0 | 22 |
| Assam | 1109 | 277 | 4 | 1390 |
| Bihar | 2002 | 1900 | 24 | 3926 |
| Chandigarh | 91 | 199 | 4 | 294 |
| Chhattisgarh | 424 | 122 | 1 | 547 |
| Dadar Nagar Haveli | 2 | 1 | 0 | 3 |
| Delhi | 11565 | 8746 | 523 | 20834 |
| Goa | 29 | 42 | 0 | 71 |
| Gujarat | 5357 | 10780 | 1063 | 17200 |
| Haryana | 1280 | 1055 | 21 | 2356 |
| Himachal Pradesh | 213 | 122 | 5 | 340 |
| Jammu and Kashmir | 1624 | 946 | 31 | 2601 |
| Jharkhand | 358 | 296 | 5 | 659 |
| Karnataka | 2028 | 1328 | 52 | 3408 |
| Kerala | 708 | 608 | 10 | 1326 |
| Ladakh | 34 | 43 | 0 | 77 |
| Madhya Pradesh | 2922 | 5003 | 358 | 8283 |
| Maharashtra | 37543 | 30108 | 2362 | 70013 |
| Manipur | 72 | 11 | 0 | 83 |
| Meghalaya | 14 | 12 | 1 | 27 |
| Mizoram | 0 | 1 | 0 | 1 |
| Nagaland | 43 | 0 | 0 | 43 |
| Odisha | 852 | 1245 | 7 | 2104 |
| Puducherry | 49 | 25 | 0 | 74 |
| Punjab | 256 | 2000 | 45 | 2301 |
| Rajasthan | 2742 | 6040 | 198 | 8980 |
| Sikkim | 1 | 0 | 0 | 1 |
| Tamil Nadu | 10141 | 13170 | 184 | 23495 |
| Telengana | 1213 | 1491 | 88 | 2792 |
| Tripura | 247 | 173 | 0 | 420 |
| Uttarakhand | 730 | 222 | 6 | 958 |
| Uttar Pradesh | 3015 | 4843 | 217 | 8075 |
| West Bengal | 3141 | 2306 | 325 | 5772 |
| Cases being reassigned to states | 6414 |   |   | 6414 |
| Total# | 97581 | 95527 | 5598 | 198706 |
ALSO READ | Coronavirus cases worldwide cross 6.3 million mark; death toll at 3,77,404​
ALSO READ | Delhi govt asks DMs to identify accommodation for COVID patients, land for cremation, burial
​