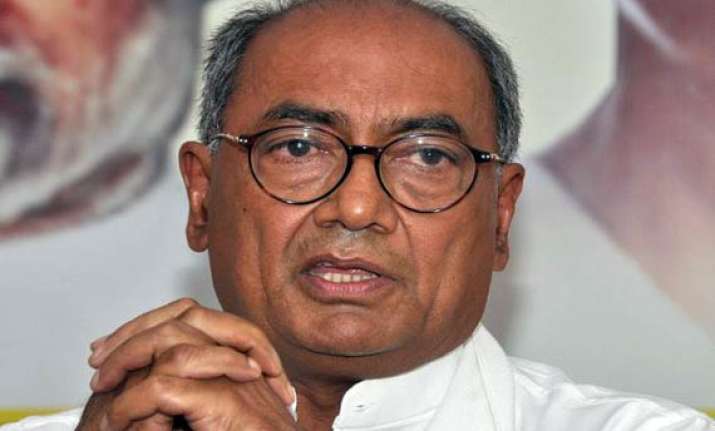 New Delhi, Jun 6: Congress general secretary Digvijay Singh on Monday alleged that BJP-RSS were behind the attempt to assault  party leader Janardhan Dwivedi with a shoe in the party headquarters during a press briefing.
 
DIgvijay Singh said, this shows "the ugly face of fascism of RSS and is highly condemnable. I would like to compliment Janardhanji the way he kept his cool  and the way he remained calm and composed."
 
"This is an absolutely motivated plan by the BJP-RSS. This reflects their reactionary and communal ideology", Singh said.
 
"These are the people who train their volunteers from childhood how to make explosives and this has been revealed through Swami Aseemanand's confession", Singh said.
 
Singh complimented the mediapersons for helping in overpowering the assailant.  "The quick reaction from BJP shows that they were aware of this assault. BJP should first introspect on such behaviour", he added.
 
Congress spokesperson Manish Tewary such "crude politics could only be expected from RSS-BJP".
 
He said, "I would not be surprised if the hand of RSS-BJP is found behind this attempt."
 
On the other hand, BJP leader Shahnawaz Hussain described this  incident as a reflection of public anger over the police action against Swami Ramdev and his supporters.
 
Asked why BJP leader Sushma Swaraj was dancing with other leaders at the Rajghat dharna, Shahnawaz clarified that  Sushma Swaraj was dancing to the tune of a patriotic song. "Our leaders do not dance to item numbers".
 
 
But, BJP leader Ravi Shankar Prasad said  his party disapproved of the shoe-throwing incident. "We condemn it. It is not right whatever be the provocation".