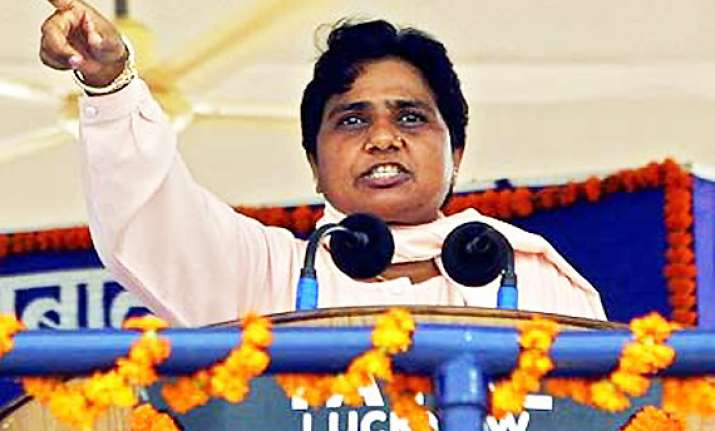 Sitapur (UP), Feb 1: Facing charges of scams during her five-year tenure in UP, chief minister Mayawati today told a BSP election rally that all the main parties Congress, SP and BSP have been involved in scams. 

The BSP chief blamed the Centre of using the CBI as a tool to harass BSP at times for irregularities in National Rural Health Mission, and alleged that CBI has not proved to be so quick in 2G, CWG and other 62 scams worth 20 lakh crore, in which the Congress leaders were involved.

Mayawati said there were food scam and police recruitment scams during Samajwadi Party's rule in UP, and the mining scam in BJP-ruled Karnataka is a matter of public knowledge.

"These parties should not speak about corruption as they are themselves involved",she said adding that BJP made no effort to being back black money despite being in power for 7 years.

Mayawati warned that if SP came to power women and businessmen would not be safe as goondas would rule the roost. Warding off the people from Congress, she said that it would hand over small big enterprises to foreign companies while BJP would give a boost to communal forces.

She appealed to the public to avenge their anger over covering of the statues by voting for the BSP and helping in formation of majority government.

Mayawati told her supporters that the BSP which is contesting on all assembly seats, has chosen good candidates who are devoted to people in their constituencies. "Bad candidates were denied tickets and given what they deserved," she said.

Attacking the Congress, she said its wrong economic policies resulted in increase in poverty and unemployment following which people of UP had to go out and work in other states.

Alleging that the centre has discriminated against the BSP government, she said that request for a package worth 80 thousand crore for various schemes meant for the poor was made but it was rejected.

On her move to divide the state into four parts, she said that the centre is yet to perform its constitutional duty in this matter. She asked her supporters to teach the parties a lesson who have opposed the creation of new states.

Stressing that the BSP government maintained law and order even at the time of Babri Masjid verdict, she blamed the Congress of playing divide and rule policy on minority reservation and termed their manifesto as an election gimmick.

Referring to the NRHM, she said after murder of two CMOs BSP government started its investigation and took resignations from two of their ministers on moral grounds.