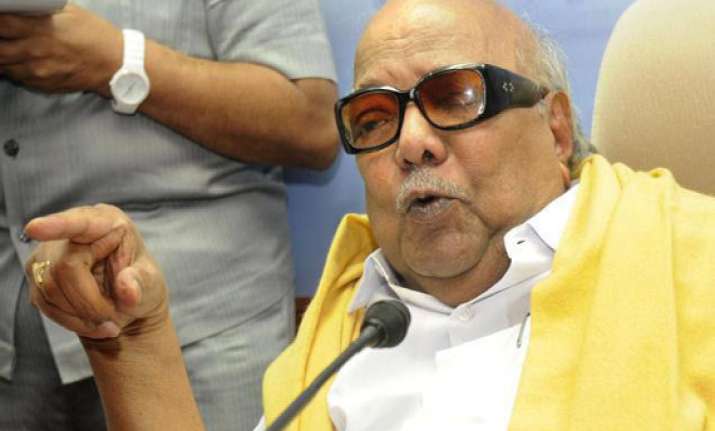 Chennai: DMK chief M Karunanidhi today urged a pro-Tamil outfit leader, on an indefinite fast here since the last three days to press for expelling Sri Lanka from Commonwealth of Nations and shifting a meeting of CHOGM from Colombo, to protest through other non-violent means.
".. on behalf of DMK, I insist that he breaks fast and continues to protest in other non violent ways," he said in a statement.
K Thiagarajan, General Secretary of Tamil Desiya Viduthalai Iyakkam has been on an indefinite fast for the last three days, demanding that India boycott the Commonwealth Heads of Government Meeting (CHOGM) at Colombo next month, alleging that the island government was guilty of genocide of Tamils in Sri Lanka.
Karunanidhi said his party had also conveyed a similar demand to the Centre and recalled the statements of Union Ministers from Tamil Nadu that the Centre would take an appropriate decision on the issue at the right time.
The DMK chief said he was prompted to ask Thiagarajan to give up his fast as it was important for him to live, having had his life sentence revoked in the past.
Political parties in Tamil Nadu, including DMK, have already demanded that Prime Minister Manmohan Singh stay away from CHOGM in Sri Lanka.
On October 1, the Madras High Court had directed Chennai Police to grant permission to Thiagu to observe the indefinite fast after he moved the court on being denied permission to go on fast by the Police Commissioner.