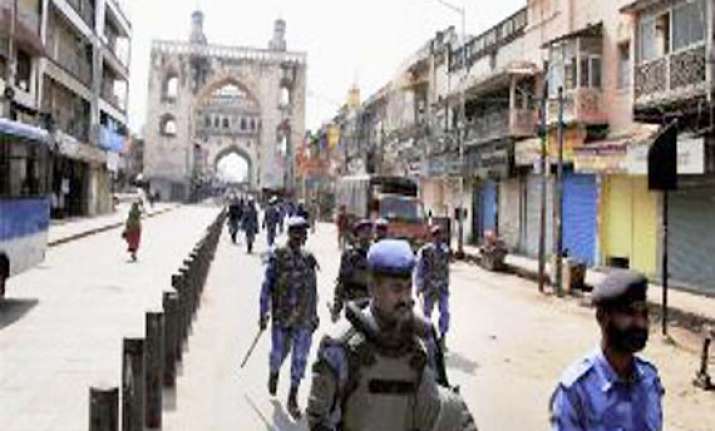 Hyderabad, Nov 13: Charminar, the monument which symbolizes Hyderabad, remained under police siege for the third straight day Tuesday with all the markets surrounding it still shut.
A curfew-like situation prevailed around Charminar as police and paramilitary forces were deployed in large numbers to prevent any untoward incident.
Police, however, allowed devotees to pray at the Bhagyalakshmi temple abutting Charminar, the row over which has led to tension in the old city.
All routes leading to the 400-year-old monument were sealed with barbed wires and steel barricades but the devotees were allowed to visit the temple.
Long queues of men and women were seen outside the temple to perform 'puja' on the occasion of Diwali.
Policemen were not allowed any vehicle to proceed towards the monument and only devotees were permitted to walk up to the temple, where erection of a canopy in alleged violation of high court orders Sunday triggered a huge row.
The Majlis-e-Ittehadul Muslimeen (MIM) withdrew its support to the United Progressive Alliance (UPA) government in New Delhi and the Congress government in Andhra Pradesh.
Police said the situation in the old city was peaceful.
The Charminar area, thronged by thousands of shoppers and tourists on any given day, resembled a fortress with armed policemen deployed all over the deserted streets.
Additional forces were mobilized Tuesday to maintain law and order in view of the large number of devotees visiting the temple.
The famous bangles and cloth markets, jewelerly and pearl shops, hotels and eateries were closed for the third day, dampening Diwali festivities for the residents of the old city.
People living in areas surrounding Charminar complained that police were not allowing them to come out of their houses even to buy the essentials.
People were not permitted to go to Nizamia Tibbi Hospital close to Charminar. Relatives of patients admitted to the hospital were furious.