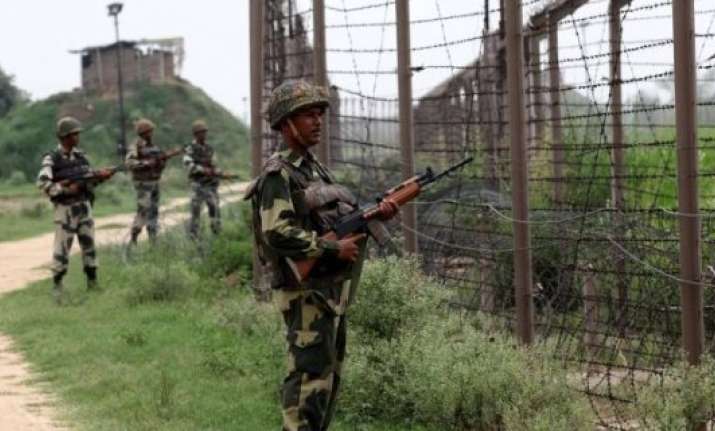 New Delhi: BSF has asked the Jammu and Kashmir authorities in the border villages of Jammu sector to restrict civilian movement late in the night and early morning hours to minimise causalities occurring due to firing and shelling by Pakistan.
Officials in the security establishment said the request has been made after it was observed that Pakistani forces were targeting those hamlets and areas on the Indian side whenever they saw even the slightest movement of civilians or force personnel.
"It has been noticed that Pakistani firing is attracted to any civilian or soldier's movement at night or in early house. There have been numerous instances when locals ventured into their fields for farming-related work or for ablution in the wee hours and a shell has landed soon after from across the border.
"During the night, the fire is directed towards any faint source of light or silhouette and, hence Border Security Force (BSF) has asked local authorities to ensure restriction on movement. BSF itself is asking people not to venture out during these times," sources said.
To minimise causalities or injuries from bullets or shells, BSF troops have also been operating out of bunkers created next to these "visible targets" for the enemy at a number of posts.
"The BSF men are using camouflage tactics to the hilt.  The posts have been shunned but the entire defence mechanism is working from hidden locations created nearby. This has saved many causalities on the part of the border guarding force," they said.
The force has also bolstered its ammunition supply chain route and is getting quick replenishments in the firing-affected areas of the International Border in J-K.  "BSF is also matching full calibre of the incoming Pakistani fire. They are firing a mortar for a mortar, a bullet for a bullet and a shell for a shell. They are using both long range and short-range weapons and associated ammunition to give the enemy a taste of its own medicine," they said.
According to officials, over 130 border villages have been hit by mortar shelling and firing by Pakistan since last night. Of these 57 hamlets were hit in Kathua district, over 50 in Jammu and 20 in Samba district.