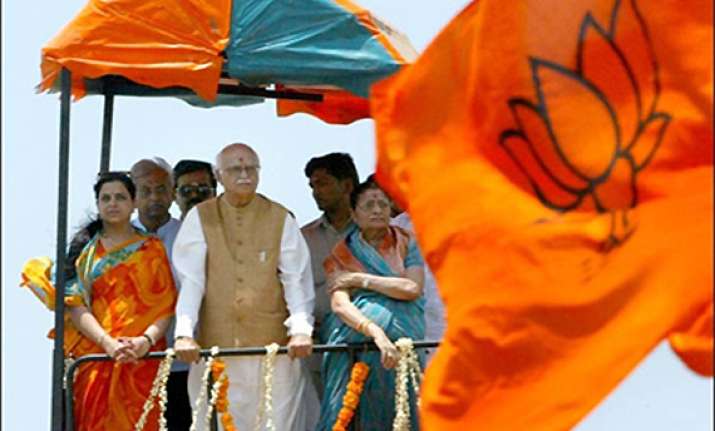 Adilabad (AP), Oct 18: Accusing the UPA government of betraying the people over Telangana statehood demand, BJP leader L K Advani today asked the Centre to move a bill for formation of the state in the winter session of parliament and said his party would support it.

"A promise was made that the government was moving in the direction of formation of separate Telangana and a committee was formed. The committee submitted its report long back.

"But this government is watching as suicides are being committed for the (Telangana) cause", he said addresing his first meeting after his yatra entered Telangana region of Andhra Pradesh.

He alleged youth are committing suicides due to the "anger over being betrayed on the separate statehood promise".

Pointing to the victory of TRS in a by-election whose result was announed yesterday, Advani said the government could not delay the formation of Telangana anymore.

"Prime Minister Manmohan singh should announce that Telangana will be formed during the winter session of parliament," he said.

BJP, with its 116 members in the Lok Sabha and 50 in the Rajya Sabha, would fully support the formation of Telangana, Advani said.

"If it is democracy, the will of the people should be respected", he said.

Advani said "my party has 116 members in the Lok Sabha a"nd around 50 in the Rajya Sabha. If the government brings a bill for Telangana, my party would give complete support.  "There should be no more delay," Advani said adding "the public has suffered in this region and their problems should be solved.

As Advani's Jan Chetna Yatra entered Andhra Pradesh BJP activists had put huge banners welcoming him to 'Telangana' state.

The BJP leader said "I today during my yatra have come to an area when I see your enthusiasm, I don't feel happiness because beneath this enthusiasm lies anger, lies dissatisfction".

"That anger is because the people here have been cheated. I was present in the Lok Sabha when it was promised and said that we are progressing in this direction (formation of Telangana).

"Then what happened suddenly that the same government said that we will not do it and formed a committee," he said adding "in the history of this country such a situation has never come".

"In this very region, in Vidarbha, I had come when farmers had committed suicides," Advani said.