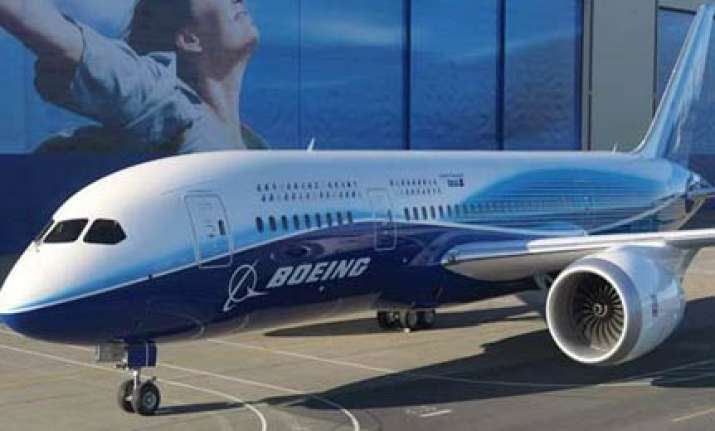 New Delhi, Nov 9 (PTI) US aircraft manufacturer Boeing will begin the much-awaited delivery of '787 Dreamliners' to national carrier Air India by second quarter of 2011 and hopes to clear the backlog of deliveries of over 100 aircraft worth USD 15 billion to India within the next five years.
"We have said in July that we will start the deliveries of Dreamliners to Air India by the second quarter of next year and we stand by that," Boeing India President Dinesh Keskar said here today.
Air India had ordered 27 Boeing 787s as part of a 68-aircraft deal in 2006. As per the original schedule, Air India was to receive the first Dreamliner in May 2008 but Boeing's project was delayed.
The national carrier plans to deploy these "fuel efficient" aircraft on its long-haul sectors such as India-US and India-Australia for non-stop services.
The world's largest aerospace and defence company has an order backlog of over 100 aircraft in India worth USD 15 billion -- mainly with Jet Airways, Air India and SpiceJet.
"This (backlog) would be cleared in the next four to five years, as India's aviation sector is coming back to life," Keskar said.
 Boeing has an order backlog of more than 3,000 aircraft all over the world.
Commenting on the recent deal signed with budget airline SpiceJet for the purchase of 30 Boeing 737-800 aircraft, Keskar said, "it is a good sign for Indian aviation industry".
SpiceJet will buy 30 B737 planes from Boeing in a deal worth USD 2.7 billion, which is the part of USD 10-billion business deal sealed during US President Barack Obama's visit in Mumbai last week.
Predicting a 15 per cent growth for the Indian aviation market, Keskar said, "this year Indian carriers will be carrying around 50 million passengers as compared to 48.3 million passengers last year."
This growth in the aviation sector would be "sustainable" as the profitability is increasing with good load factor and stability in the price of the aviation turbine fuel, the Boeing official said.