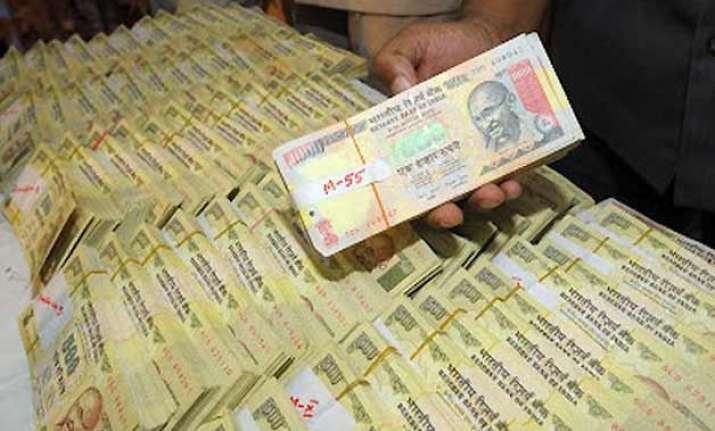 New Delhi: Giving a fresh thrust to their crackdown on blackmoney, Indian tax authorities have decided to cut down on lengthy paperwork and go for face-to-face engagement with their counterparts in tax havens and other nations to quicken the pace of recovery of tainted money stashed abroad.
The Union Finance Ministry, after due consultations with the SIT on black money and various financial probe agencies, has decided that a team of senior officials will hold bilateral meetings with foreign jurisdictions either in India or at the locations of their counterparts to thrash out issues quickly.
"The step is aimed to cut down on the time taken in paper-based documentation and communication in cases of illegal funds stashed abroad.
"A team of senior officials drawn from the Ministry and its various field formations will hold meetings and put across requests related to probe in these cases right on the discussion table. The required sanctions in this regard have been obtained from the government," a senior Finance Ministry official said.
The face-to-face engagements are aimed at understanding the problems faced by authorities abroad in parting with information related to black money and solve those at the earliest.
"Bilateral discussions, including through conference calls and face-to-face meetings with the competent authorities of our treaty partners which now include well known tax havens and offshore financial centres such as British Virgin Islands, Jersey, UAE and Singapore are being planned and the cooperation in this regard will be deepened in future.  
"These bilateral meetings will help India in making targeted and specific requests for information and to understand the problems, if any, which prevent them in providing the information, and to examine how the same can be addressed," according to a note prepared by the Central Board of Direct Taxes accessed by PTI.  
Three such meetings have already taken place and about half-a-dozen mre are lined up this year, including one with the European Union.
As part of the measures to combat the black money menace, investigators have also received a new dossier on tax-related business information on about a dozen entities whose names were reported by an international group of investigative journalists sometime back.
The note also says that "certificates of incorporation" of eleven entities listed in the International Consortium of Investigative Journalists (ICIJ) report which were received from two foreign Financial Intelligence Units have been shared with CBDT for further action.
The ICIJ brought out these names early last year while some additional details were published by the global group this year on suspected world entities holding assets and shares in overseas business structures, including those with Indian connections.
The SIT on black money early this month submitted its latest report to the Supreme Court informing it about the status of investigation in various cases being probed by it.  It also included the information that the Income Tax department has launched 121 prosecution cases against those whose names had figured in the much talked about HSBC list.  
The note added that the probe with regard to about 600 suspect names and addresses which were obtained by the Central Economic Intelligence Bureau (CEIB) last year through its exclusive channels is "in progress."
The official communication also spoke about enhancement in cooperation between India and Switzerland on these issues, a matter highlighted by quite often by Finance Minister Arun Jaitley himself.
"Switzerland has indicated willingness to provide information in respect of cases where investigations have been carried out by the I-T department independently from what Swiss government considers as stolen data.
This development is very significant because there are a number of cases of account holders included in the HSBC list which were investigated by I-T department independent of the HSBC list obtained from the French government.  
"Earlier, the Swiss government had not agreed to provide any information on names which were included in the HSBC list on the ground that these were stolen data and have been obtained in breach of Swiss law," the note said.