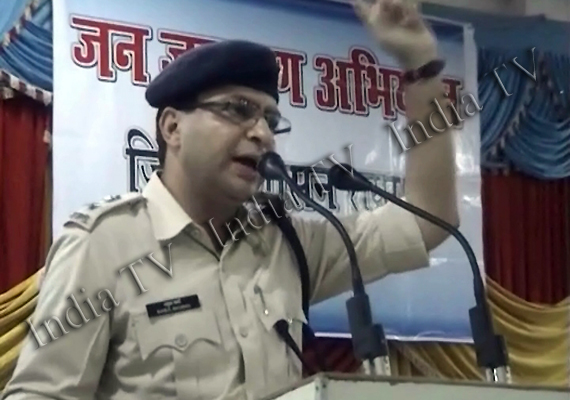 Bilaspur, Mar 13: Chhatisgarh IPS officer Rahul Sharma, who committed suicide on Monday, had in his suicide note addressed to his wife had written that he was working under extreme pressure from his seniors.

IG Bilaspur Range G P Singh told mediapersons that Sharma in his suicide note sought apology from his wife and family for taking his own life, saying that he was under mental depression because of extreme pressure from seniors.

Sharma, Superintendent of Police, Bilaspur, committed suicide on Monday by shooting himself with his service pistol inside the washroom of the Officers Mess.

The Chhatisgarh assembly today witnessed uproar and had to be adjourned twice after Opposition members raised the issue of Bilaspur SP's suicide. 31 members of Congress went up to the well of the House demanding resignation of the state Home Minister and CBI probe into the suicide.




Congress members alleged that "administrative terrorism" and land mafia pressure led to Sharma committing suicide. They alleged that Sharma was taken to hospital three hours after he shot himself.

Congress members said that a mere magisterial inquiry will not help in bringing out the truth.

Officials close to Rahul Sharma said, he had returned from 15 days leave and was going to shift to his new official bungalow in a day or two. After an official meeting on Monday, Sharma went to the Officers' Mess at around 12:30 pm. His gunman U S Yadav and his driver were with him.

After having his lunch, he told his gunman and the driver that he would go to the SP office at 1:30 pm, and retired to his room in the Officers' Mess.




At 1:30 pm when his gunman went to his room, he found his diary and briefcase lying on the table, and the washroom locked from inside. He went back thinking that Sharma was inside the washroom.

When the gunman returned 15 minutes later, he suspected something fishy. As he opened the door of the washroom, he found Sharma lying on the floor with a bullet wound in his head. His service pistol was lying nearby.

The gunman rushed to Addl SP Vedvrat Sirmour and gave him the sad news. An ambulance was called and Sharma was rushed to SIIMS, where doctors declared him dead.

Sharma's wife Gayatri, deputy chief operations manager in Railways, was informed about his suicide nearly two hours later. She rushed to SIIMS from her office.