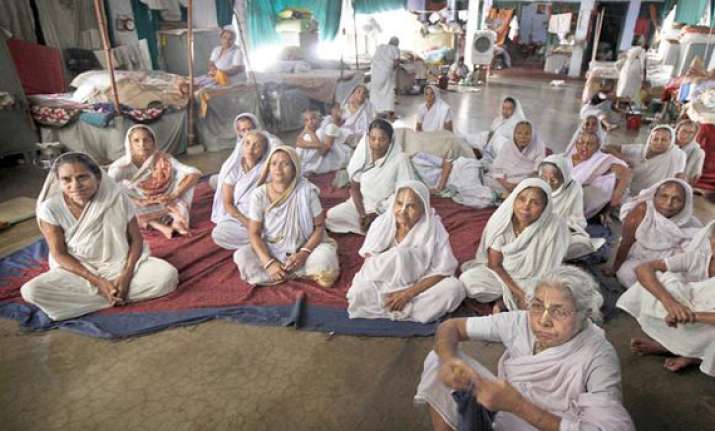 Kolkata:  This Durga puja is a homecoming of sorts for 50 Bengali widows from Vrindavan and Mathura, for the first time in years after they had been abandoned by their families.
The old women came back to their home city today to celebrate the festival, which for a Bengali marks the visit of Goddess Durga with her children to her parents' house, as part of a process under the Supreme Court's directive to remove the social stigma attached to their lives.
The apex court had directed National Legal Service Authority last year to seek Sulabh International's help for the rehabilitation of the widows. The NGO arranged for the visit.
On their arrival at the Netaji Subash Chandra Bose International airport they were given a traditional welcome amidst beating of 'dhaak' (traditional Bengali drums) and blowing of conch shells.
There was showering of flowers and welcome chants in Bengali for the hapless women, who were forced to lead miserable lives in far away pilgrim towns for long years.
During their visit, the widows would not only rekindle memories of their youth but would also inaugurate several prominent Durga Puja pandals.
The eldest in the group is 104-year-old Lalita Dasi who had left her home at Baidyabati in neighbouring Hooghly district within a year of her husband's death 35 years ago after she realised her children thought of her as a "terrible burden".
Sulabh International founder Bindeshwar Pathak said the visit was arranged after the widows expressed a desire to visit Kolkata during the festival.
On Tuesday, the women would inaugurate Pally Mangal Samiti Durga Puja in Jodhpur Park area.  Puja organiser Jaydeep Mukherjee said Chief Minister Mamata Banerjee has been requested to be present on the occasion. Besides special arrangements have been made for the women to go pandal hopping.
Others puja committees like those at Salt Lake FE block and Hindustan Park have also invited the women to their pandals.