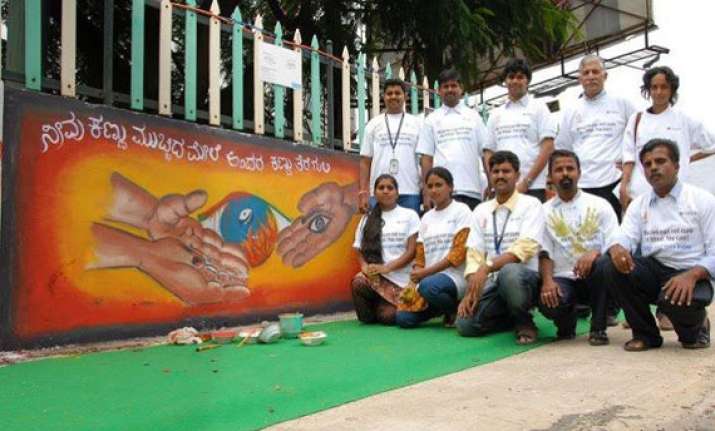 Bangalore: Super specialty eye hospital Narayana Nethralaya here said Monday that it will intensify a campaign to enlist more eye donors to tackle blindness.
"As demand for corneal transplantation has outstripped supply across the country, the need for creating greater awareness to donate eyes has become imperative to gift sight to the deserving," Nethralaya chairman and managing director Bhujang Shetty told reporters.
Though over three million people were waiting for corneal transplantation to gain vision and sight, state-run and private hospitals were able to collect about 50,000 eyes from donors every year.
"People need to be educated to pledge their eyes so that the deserving and needy are able to see this beautiful world," Shetty said, marking the 28th national eye donation fortnight (Aug 25-Sep 8).
Lamenting that in a cosmopolitan city like Bangalore, eye donations accounted for a mere three-four percent of 300-400 deaths a day, Shetty said due to lack of awareness on the value of donating eyes, the hospital was able to collect only 800-900 eyes from donors every year.
"We have been able to secure eye donation pledges from about 40,000 people across the state through our 'Rajkumar Eye Bank', named after Kannada yesteryear matinee idol Rajkumar, whose eyes were donated by his family on his passing away in April 2010," Shetty said.
Marking the occasion, the hospital honoured 25 of its campaign partners, associates and select donors who pledged their eyes for corneal transplantation after their death.
As part of the eye donation fortnight, the hospital's Eye Bank and its partners will distribute pamphlets and pledge forms at malls, petrol bunks, bus stops, government offices, IT firms, Cafe Coffee Day outlets, hospitals, mortuaries and autorickshaw stands.
"We are organising painting competition here for children on topics relating to eye donation and pledging. Eye donation stickers will be distributed to taxi and autorickshaw drivers," a hospital spokesman said.