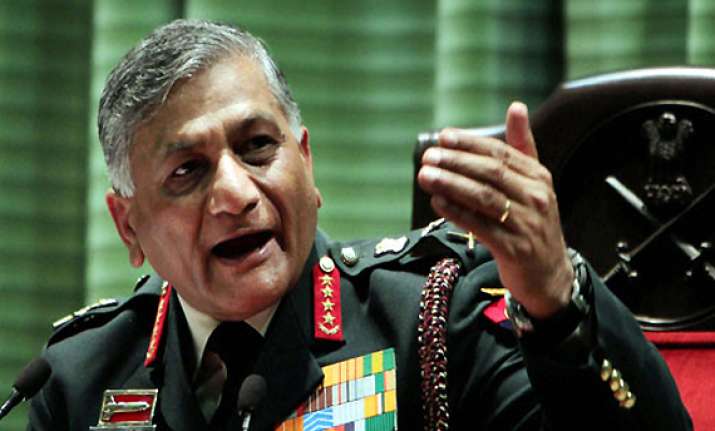 Hyderabad, Mar 5: Reacting sharply to reports that he had deployed interceptors for clandestinely listening to important phone conversations, Army chief General V K Singh today dismissed them as "fiction" and hit out at the media.  

"Fiction does not require any reaction. If people concoct stories and some of the irresponsible editors allow those stories to get published, I don't think it requires any reaction," he told reporters here on the sidelines of a book release function.

An anonymous detailed complaint received by the government in recent days lists several allegations against the Army chief, including possible misuse of off-the-air interceptors to listen in on phone conversations in the national capital.

The complaint says the deployment was part of an effort to eavesdrop on conversations between key people who may have decided the government strategy on Gen Singh's age issue.

Asked about his letter to the Defence Ministry over shortage of ammunition in the Army, Gen Singh said he had apprised the ministry about the status of various inventories.

"The Raksha Rajya Mantri is aware. Our efforts in the last two years have been to ensure that the operational preparedness of the Army improves. In that there are a large number of measures. Periodically, we have been apprising the ministry as to how things are going, what are the shortages and what action needs to be done," he said.

Minister of State for Defence M M Pallam Raju was by Gen Singh's side when the General talked to the media.

Replying to a query whether China's hike in its military budget was a matter of concern, Pallam Raju said the defence budget is made as per the requirements of the country.

"We formulate our budget and defence spending based on the perception of the security scenario.... We are living in a very challenging neighbourhood. So, there is a need for augmenting our defence preparedness. We have been spending adequately," Raju said.

The 12th five year plan envisages spending to the tune of 100 to 120 billion dollars.

He said the manufacturing facilities are being strengthened and greater participation by the private sector is being encouraged.

"There is no need for comparing the spending of others as defence spending of any country is in tune with its preparedness perception. China being a larger neighbour, with a larger economy, I guess they have more resources to spend," he said.

Asked if China's argument that it is building up its defence for internal security is a matter of concern, the Army Chief said militarily, all threats are looked after.

"What China is saying, that is their perspective and we don't want to speculate on that," Singh said. Singh said reports of him unwilling to leave as army chief to pave way for his successor showed "perceptional difference".

"I have already ordered my retirement orders to be issued. I don't know where these stories come from," Singh said.

Raju said, according to convention, the next chief is announced three months ahead of time and the institution of Army Chief is a venerated position, which should not be put to much comment.

Over China's objections to Defence Minister AK Antony's visit to Arunachal Pradesh, Raju said there are differences on the perception of the border and both countriers are having an extended dialogue.

"They are at the level of National Security Advisers. We have had 15 rounds of discussions. We are working on it," Raju said.