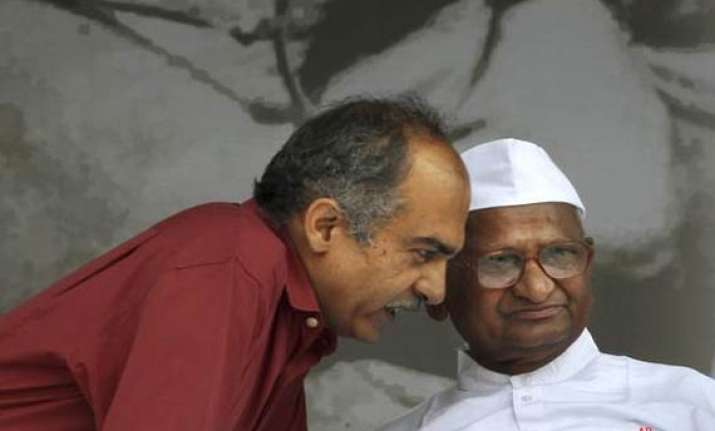 Ralegan Siddhi/New Delhi, Oct 14: Team Anna was in turmoil today after Anna Hazare wondered whether Prashant Bhushan should continue in their campaign after his controversial remarks on Kashmir.

However, a few of Anna's associates met in Delhi seeking to downplay the issue saying the Gandhian had made no such point about Bhushan's continuance in the team. 

"Woh aage jaake hum log tay karenge, rakhna (hai) nahi rakhna (hai) (We will decide later whether he will be in the teamor not)," Hazare told reporters in his native Ralegan Siddhi when asked whether Bhushan, a key aide in his fight for a strong Lokpal Bill, will remain part of Team Anna. 

"Whatever views he has articulated, that is not right," he said, two days after Bhushan was attacked by three youths of a right-wing in his chamber in New Delhi for advocating plebiscite in Jammu and Kashmir.

As Hazare's comments triggered a fresh controversy, activist Arvind Kejriwal addressed a press conference in New Delhi in which he sought to say that Hazare did not mean that the lawyer should be removed from the team. 

"He is an integral part of the team. He is a very respected citizen who has worked in several areas including environment and human rights. He has played a crucial role in the anti-corruption movement also," Kejriwal said. 

"I spoke to Anna over telephone. He told me that he did not say that. What he told me was that the committee will decide who should be in or out," he said.

A meeting of Team Anna's core committee was held in UP's Noida during which a resolution saying Kashmir is an integral part of India and the "complex" problem should be solved through peaceful discussions, was adopted. 

However, Hazare, Bhushan and Bedi did not attend the meeting. Bedi is in Amsterdam while Bhushan has left for the US. Prashant's father Shanti Bhushan attended the meeting.

Later in his blog, Hazare sought to blame media when his comments on the continuance of Prashant Bhushan in his team triggered a controversy saying some sections of media have "resorted to spreading controversial statements as mine". 

"I would like to state here, sans Prashant Bhushan's opinion on Kashmir issue, he is still an integral part of our team. Media is the fourth pillar of democracy and we are together in this crusade of ours.

"But some negative factors in the media and society are trying to mislead people about me and my team...I would like to appeal to them not to spread rumours and to the people please do not believe in those rumours," he said. 

Hazare said he and his team are creating a revolutionary era with its crusade for a Jan Lokpal Bill, 'Right to Reject' and 'Right to Recall' while striving for a corruption free India.

"People from every corner of the country are interested in knowing my stand on these two issues. It is a matter of priority for us as I and my team have not wavered from our basic aim and neither acted on anything other than that," he said.

In another blog posting, Hazare said the struggle does not end with Jan Lokpal Bill and one has to take forward the fight for 'Right to Reject' and 'Right to Recall'.  Criticising the trend of relatives of leaders entering politics, he said "sons, nephews, daughters, relatives of few powerful and mighty families are ruling in all states across the parties."

"Dynasty and neo-feudalism has arisen out of power lying in the hands of few families through electoral policies. Our politicians have developed monarchy through democratic electoral system.

"Today in politics there is very little space or no space for common man or common party workers to climb the ladder of power and reach the top," Hazare said adding this was not the democracy for which forefathers have sacrificed their lives. 

Alleging that not only political but the administrative and judicial system are "steeped" in corruption, Hazare said "unfortunately, corruption has become a 64-year-old sorrow and anomaly. It looks like we do not need sustainable development."

He said government and political parties are "hand in glove" in acts of corruption or else all the parties would have definitely come forward in support of Jan Lokpal Bill.

"But of course only a political party doesn't necessarily signify a country. In reality, a country is made up of people and people are sovereign! If the need arises we will again put up a fight," he said.