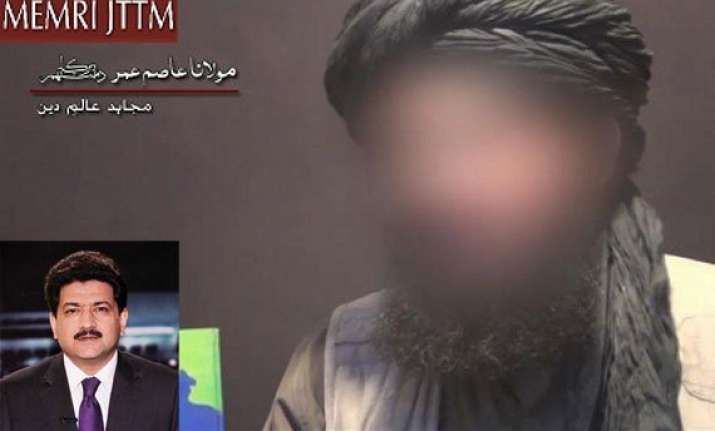 New Delhi: Pakistani Geo News TV chief editor Hamid Mir has revealed that Maulana Asim Omar, who has been appointed South Asia head by Al Qaeda chief Aiyman al-Zawahiri, hails from Ahmedabad.
Asim Umar was appointed head of Jamaat Qaidat al-jihad fi'Shibhi al-Qarrat al-Hindiya (Organisation of The Base of Jihad in the Indian Subcontinent) by al-Zawahiri on September 4 this year.
Asim Umar, an Indian national, reportedly studied in the seminary of Dar-ul-Uloom in Deoband(UP), but Dar-ul-Uloom officials deny he was ever a student.
Speaking to Indian Express editors in Delhi in Idea Exchange, Hamir Mir said, he first met Asim Umar in 2005 in Afghanistan.
Hamid Mir said: "Those days, the Afghan Taliban were in control of Andar district of Ghazni province. I was visiting the tomb of Mahmud of Ghazni (10th century invader). Somebody there contacted me, it was a taxi driver. He asked me, 'Oh, you come on Geo TV'. I said yes. He said, 'Amir sahab wants to meet you'."
"I asked him who Amir sahab was. He said, 'Don't worry, we will not harm you.'. I then asked him what kind of story he was talking about. I agreed to meet the man. Our crew moved towards Andar, and I met some people there. Asim Umar was one of them. They had an offer for me. They said, 'if you stay with us, we will organise an attack on the US Army and you can film that attack. It will be a big story'," he said.
"I refused. They agreed to let us go but asked me to report that they had not allowed the Karzai regime to work in the district. Then they introduced me to Asim Umar, 'Meet Asim, you can talk to him in Urdu'," they said.
"Umar started talking to me in Urdu. He gave me a book. When I looked at it, I saw it was written by Asim Umar himself. I still have that book, which had a message inside -- 'Hadia khuloos Hamid sahab, arz Asim Umar' (respectfully for Mr Hamid from Asim Umar)," they added.
"...After a few years, in 2007, I met him again in North Waziristan. He was forced to leave Ghazni province because he had developed differences with a local commander. The commander alleged he was an Indian spy. So the Pakistan Taliban protected him and he came to Pakistani tribal areas. Now he is absent. But recently I received a lot of literature written by him, both in English and Urdu."
"When I met him in 2007 in North Waziristan, some of his colleagues told me he was from Ahmedabad. His family moved to Delhi, from where Asim Umar went to Dubai. He later went to Pakistan and then Afghanistan. He married somewhere in Afghanistan or Pakistan, and has some kids. He must be in his 40s."