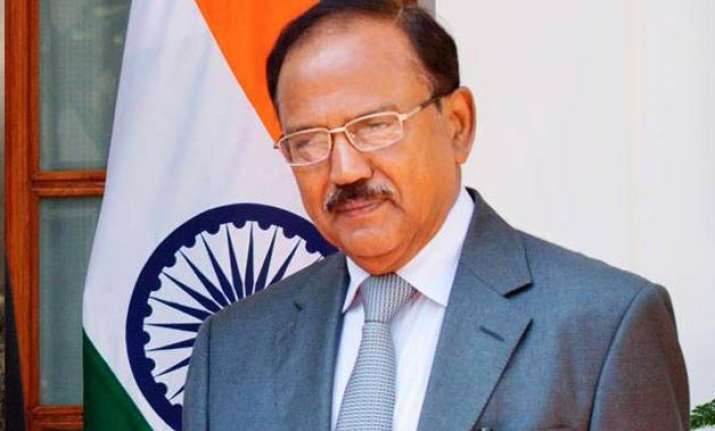 New Delhi: Terming "jihadi terrorism" as common threat to South Asia, NSA Ajit Doval today warned Pakistan not to engage in covert actions saying it is a very short-sighted strategy of the neighbouring country.
He said Pakistan has never realised that it can be "profitable" and "most effective" for its economic growth and stability if it engages with India and rest of the South Asian countries.
"Till that happens, what India can do. I think one is that we should continue to work hard to persuade Pakistan, to convince Pakistan, through our sincerity, whatever we can do and whatever we think is the language in which the Pakistan can understand it well.
We should be able to convey and convince it," he said.
Delivering the first 'Nagendra Singh memorial lecture' on 'Ensuring peace in South Asia: Role of India' organised by the International Goodwill Society of India, he said most of South Asian countries' security threats are internal.  
"There is only one threat which has got its footprints in almost all of the nations. Problem about this is that its origin, its nursery, is also the member of South Asian region.  Islamic terrorism or jihadi terrorism, rather I should use the word, is one of the common threats.
"Bangladesh is affected by it, Afghanistan is affected, India is affected, Pakistan is affected by it. Sri Lanka is affected," the NSA said.
This is one common threat on which there could have been much of cooperation but probably two of the countries Afghanistan and Pakistan have become epicentre of that, he said.
"Since Pakistan is part of the problem it could not become part of the solution," Doval said maintaining that "it is only Pakistan with which there have been problems".  
He said after Prime Minister Narendra Modi came to power one of the cornerstones of the government's policy was that "we have got to take all South Asian countries together".  
"And that was the idea when all the heads of the governments were invited for his swearing-in ceremony. It did start well it did give us lot of dividend. Probably thing with Pakistan have not developed as much but we are sure that some day we will able to do so," Doval said.  
He said another important requirement will be where Pakistan shifting from its strategic position where it feels that covert action can be effective low cost option of its security strategy because supporting terrorism or a covert action is a very low cost exercise.
"They think that it is an option. Probably plenty of evidence today is available with Pakistan. This it is a very very short sighted strategy. It hurts the people who propagate and support it much more than the people against whom these mentalities are built.
"We do hope that with the passage of time Pakistan will realise they have started taking some action against some of the groups particularly those groups which are hurting Pakistan," the NSA said.
Doval said Pakistan has taken action against some of the groups "which undermine security interest of the western countries" but groups like Lashker-e-Taiba (LeT), Jamaat-ud-Dawa (JuD), Harkat-ul-Ansar and Harkat-ul-Mujahideen (HuM) "which are targetting India" and "which continue to get their support".
He appreciated actions like return of Geeta, the deaf and mute girl from Pakistan, after being stranded in the neighbouring country for over a decade, as an effort to build on people-to-people contact.
"What is most important is this that Pakistan has to be convinced that covert action is not a cost effective option.  The cost involved is much heavier and that will be unaffordable."
Pakistan has never felt that it can be profitable for it and most effective for its economic growth, for its stability, for its economic development, the acceptance in the world as more responsible in case it engages with India and rest of the South Asian countries, he said.