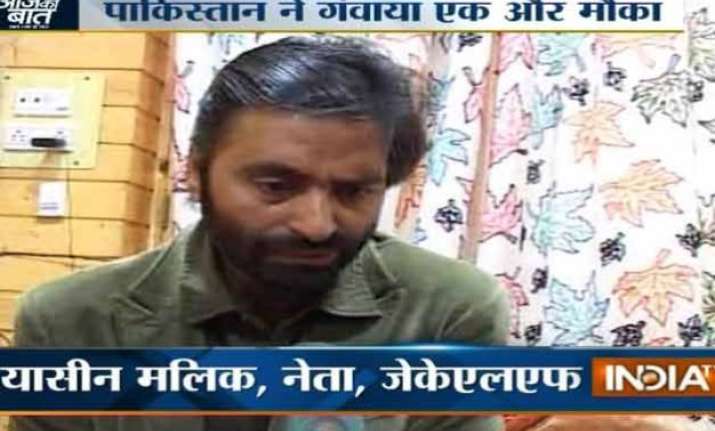 New Delhi: Jammu and Kashmir Liberation Front leader Yasin Malik termed the recent development on Kashmir as a waste of time. He also said nothing would come out of the bilateral talks between India and Pakistan.
In an  interview with India TV, Malik said, India has committed to its public that Kashmir is integral to the country which makes it impossible for further progress on the issue.
Meanwhile, India expressed its strong disapproval of Pakistan High commission inviting the Separatists leaders to attend the Pakistan day celebration.
In a message sent to Pak PM Nawaz Sharif, Prime Minister Narendra Modi said all outstanding issues with Pakistan can be resolved through bilateral dialogue in an atmosphere free from terror and violence.
General (retd) VK Singh, the former army chief and Minister of State for Foreign Affairs, also attended the Pakistani day celebrations. The minister following the protocol was visibly uncomfortable in the presence of Kashmiri separatist leaders including Mirwaiz Umer Farooq, Syed Ali Shah Geelani and Yaseen Malik.
Talking to media persons, Pak envoy Abdul Basit said, "Both India and Pakistan should join hands to resolve their differences we should endeavour to give a better and peaceful future to our future generations."
Basit also said that he does not think that India will object to his dinner invitation tonight for Kashmiri separatists to join him in celebrating Pakistan's Republic Day.
"We want friendship with India and want to resolve all issues including Kashmir through talks," he said addressing the Pakistan Day Parade today in Islamabad.
Foreign Ministry spokesperson Syed Akbaruddin retorted to Basit's remark "The Government of India prefers to speak for itself.There should be no scope for misunderstanding or misrepresenting India's position on the role of the so-called Hurriyat... there are only two parties and there is no place for a third party in resolution of India-Pakistan issues."