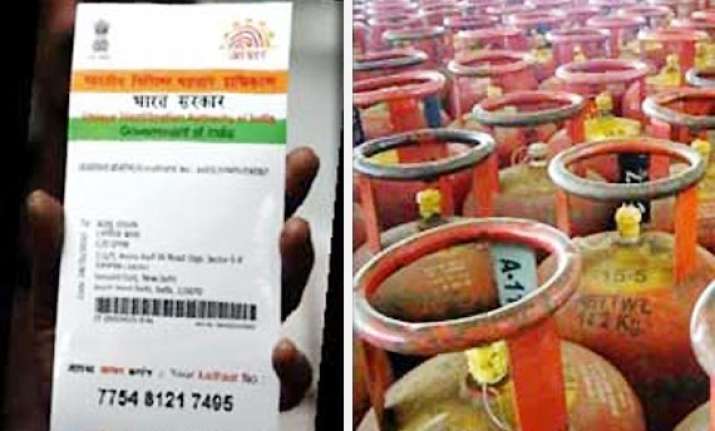 New Delhi, June 2: The Centre today launched the Aadhar-linked Direct Benefit Transfer for LPG (DBTL) scheme in 18 districts across the country. Petroleum Minister Veerappa Moily launched the scheme in Tumkur, Karnataka,  while Andhra Pradesh CM Kiran Kumar Reddy launched the scheme in Hyderabad.
The 18 districts are: Andhra Pradesh: Anantapur, Chittoor, East Godavari, Hyderabad and Ranga Reddy; Daman and Diu: Diu;  Goa: North Goa; Himachal Pradesh: Bilaspur, Hamirpur, Una; Karnataka: Tumkur; Kerala: Pathanamthitta, Waynad; Maharashtra: Wardha; Pondicherry; Punjab: SBS Nagar, Nawanshahar; and Madhya Pradesh: East Nimar (Khandwa), Harda.
The subsidy  on LPG cylinders in the districts would be provided directly to consumers in their Aadhar linked bank accounts. Over 67 lakh LPG consumers in these districts will benefit from the scheme, a press release said. 
All Aadhaar linked domestic LPG consumers will get an advance in their bank account as soon as they book the first subsidized cylinder before delivery.
As soon as, the first subsidized cylinder is delivered to such consumers, the next subsidy will again get credited in their bank account, which can then be available for the purchase of the next subsidized cylinder at market rate. 
All LPG consumers who have not linked their Aadhaar number to LPG consumer number and their bank account will have three month grace period from date of launch to do so. During this period they will continue to get the LPG cylinders at subsidized rate, as they are getting today, up to the cap of 9 cylinders.  
After the end  grace period, that is, from Sdeptember 1, 2013, LPG cylinders will be sold to all domestic LPG consumers at market price.
However, the subsidy will be transferred to only those who have linked Aadhaar  number to LPG consumer number and Bank account and others will not get any subsidy. 
In order to get LPG subsidy directly in to their bank accounts, all LPG consumers are advised to immediately do the following:
1. Get an Aadhaar number if they don't have one at Aadhaar enrollment centers.                          
2. Open a bank account with the above Aadhaar number if they do not have one.
OR
If they already have a bank account then they must get their Aadhaar number linked with their bank account by visiting the branch of the bank. They can also fill up a form available with LPG distributors and deposit it in the drop boxes placed at LPG distributors' premises/ select Petrol Pump outlets for this purpose.  
3. Link  Aadhaar numbers to LPG consumer number at LPG distributors (see website below).  
After completing the above three steps, LPG consumers can check whether their Aadhaar number has been linked to LPG consumer number and bank account at following website link: 
http://petroleum.nic.in/dbtl/linkstatus.html 
Further, the  details of LPG transparency portals of all three OMCs are provided below  which could  be utilized by the LPG consumers :  
HP Gas : http://dcmstransparency.hpcl.co.in/TransparencyPortal/Transparency/Transparency.aspx
Bharat Gas: http://www.ebharatgas.com/ebgas/CC_include/Transparency_portal_new
Indane Gas: https://spandan.indianoil.co.in/transparency/  
Moreover,  Oil Marketing Companies(OMCs) have also provided the facility on their websites to check whether the Aadhaar number has been attached to LPG consumer number/bank account. 
For feedback and for registering a complaint, customers can call on the Tollfree number 18002333555 or visit their websites www.indane.co.in,  www.ebharatgas.com or www.hpgas.com.