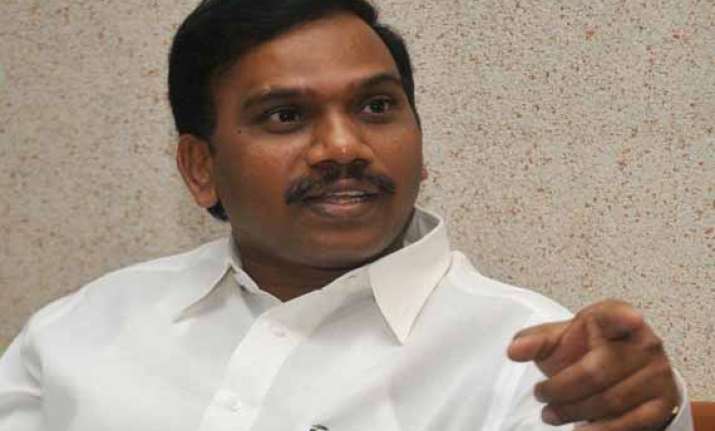 New Delhi: Former Telecom Minister A Raja today told a Delhi court that the then Solicitor General(SG) G E Vahanvati was informed that applications seeking 2G spectrum licence received till September 25, 2007 only would be processed by the Department of Telecommunications (DoT).
Deposing as a witness to defend himself in the ongoing 2G case trial, Raja denied the suggestion of CBI prosecutor that pages of the DoT's note sheet regarding cut-off date were only meant for internal consumption of the department and not for SG.
"It was brought to the notice of the learned SG through the note sheet..., where it was clearly mentioned that 575 applications were received by the department, and that the applications received upto September 25, 2007 were going to be taken for processing for issuing LOI.
"Though the date of October 1, 2007 is not mentioned in the file. However, the number of applications received upto October 1, 2007 have been mentioned ...," Raja told Special CBI Judge O P Saini.
Raja, whose cross examination will continue tomorrow, had yesterday said that the decision about the cut-off date of September 25, 2007 for processing of applications seeking 2G spectrum licence was taken after "due deliberations" in DoT.
He had denied the suggestion of CBI prosecutor that he had decided the cut-off date of September 25, 2007 without any basis.
CBI, in its charge sheet, had alleged that in order to favour Unitech and Swan Telecom, Raja unilaterally advanced the cut-off date from October 1, 2007 to September 25, 2007 for processing applications for grant of 2G licenses and had ignored various authorities including the Telecom Regulatory Authority of India, the Law Ministry and the Prime Minister's Office.
 CBI, in its charge sheet filed on April 2, 2011, had said, "the investigation has revealed that even though this cut-off date of October 1 had been announced, accused Raja, in conspiracy with other accused, had already taken a view to keep the cut-off date as September 25."
Raja is facing trial in the case along with former Telecom Secretary Siddhartha Behura, DMK MP Kanimozhi, Swan Telecom promoters Shahid Usman Balwa and Vinod Goenka, Unitech Ltd MD Sanjay Chandra, Reliance ADAG executives Gautam Doshi, Surendra Pipara and Hari Nair.
Besides them, Bollywood producer Karim Morani, Kalaignar TV Managing Director Sharad Kumar and Directors of Kusegaon Fruits and Vegetables Pvt Ltd, Asif Balwa and Rajiv Agarwal, are also facing trial in the case.
Besides these 14 accused, three telecom firms—Swan Telecom Pvt Ltd, Reliance Telecom Ltd and Unitech Wireless (Tamil Nadu) Pvt Ltd—are also accused in the case.
The court had on October 22, 2011 framed charges against them under various provisions of the IPC and the Prevention of Corruption Act dealing with offences of criminal conspiracy, cheating, forgery, faking documents, abusing official position, criminal misconduct by public servant and taking bribe.