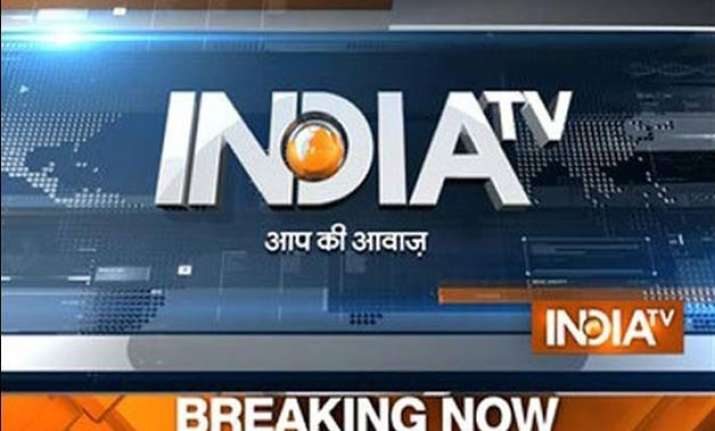 National News-
Blow to Mallya as court restrains withdrawal of Diageo's Rs 500 cr severance payout
In a setback for long defunct Kingfisher Airlines Director Vijay Mallya, the Debt Recovery Tribunal has restrained him from withdrawing an amount of approximately Rs 515 crore ($75 million) received from Diageo as a severance package. Read More
Pakistan delegation, carrying incorrect documents, cleared after MEA intervention
Be it cricket or politics, an Indo-Pak affair cannot move without its share of controversies. More of the same was witnessed today when a security team from Pakistan arrived at the Attari border post of India on Monday with plans to head for Dharamsala in Himachal Pradesh to review security arrangements for a Pakistan-India cricket match scheduled there on March 19. Read More
Had Smriti Irani helped us, our father could have been saved: Victim's daughter
Sandili Nagar, the 16-year-old daughter of Agra-based doctor who died after his vehicle allegedly met with an accident with Smriti Irani's convoy on Saturday, has alleged that she pleaded with HRD minister for help after the mishap but she ignored her. Read More
Terror alert in Delhi: Terrorists who entered Gujarat may now be in the national capital
The national capital has been put on high alert after security agencies voiced suspicion that the 10 terrorists, who may have entered India via Gujarat, have sneaked into the capital. Read More
President Pranab Mukhejee not to attend Sri Sri's World Culture Festival
President Pranab Mukherjee will not attend a festival being organised by Sri Sri Ravi Shankar of Art of Living in the wake of the controversy over holding the three-day cultural function on the Yamuna flood plains beginning in New Delhi this Friday. "The President cannot attend the function due to unavoidable circumstances," an official of the Rashtrapati Bhavan said on Monday. Mukherjee had earlier agreed to attend the valedictory ceremony on Sunday.
International News-
North Korea warns of preemptive nuclear strike at US
North Korea on Monday warned of preemptive nuclear attacks against the US and South Korea if the two allies push ahead with joint military drills scheduled to begin Monday. Read More
Coal gas outburst kills 12 in China mine
At least 12 miners have been confirmed dead and another was injured after a gas outburst occurred in a coal mine in China's Jilin Province on Sunday, rescuers said on Monday. Read More
Business News-
Vijay Mallya: From the 'King of Good Times' to 'poster boy of bad loans'
Director of the now defunct Kingfisher Airlines Vijay Mallya, recognised for his glamorous business ventures as well as his flamboyant persona, today claims to be fighting a lone battle against the media and banks – all of whom, he claims, are out to tarnish his image and paint him as a poster boy of bad loans. Read More
Mallya blames media for defaming him, says 'I am not an absconder'
Under fire for his alleged role in huge unpaid loans of now defunct Kingfisher Airlines, beleaguered industrialist Vijay Mallya on Sunday blamed media for spoiling his reputation and sought to clarify why his dream airliner failed. Read More
Entertainment News-
Is Salman Khan miffed with Bigg Boss show makers for ignoring him? (watch video)
Bollywood superstar Salman Khan has a close association with reality TV show 'Bigg Boss'. The actor has been hosting the show for many consecutive seasons and has even become the face of Bigg Boss. Read More
Is 'single' Ranbir trying to woo 'committed' Deepika after his break-up with Katrina?
Ranbir Kapoor is a 'free bird' nowadays after his break-up with girlfriend Katrina Kaif. While Kat has immersed herself in work to heal the broken heart, Ranbir is finding solace in his ex-flame Deepika Padukone. Read More
Sports News-
Post Asia Cup win, Dhoni responds to critics, says 'Cricket looks easier on TV than on ground'
Exactly eight months after his cricketing epitaph was written by all and sundry following a series loss to Bangladesh, skipper Mahendra Singh Dhoni took a jibe at his detractors saying that "Freedom of Expression" in India is used liberally by people when it comes to having an opinion on cricket. Read More
Dhoni is the best finisher in the world: Kohli
Virat Kohli termed Mahendra Singh Dhoni the "best finisher in the world" after the India skipper made short work of Bangladesh with a flurry of sixes and boundaries in the final of the Asia Cup in Mirpur. Read More